---
Join our Facebook group
---
GRANT-PIERCE INDOOR MARATHON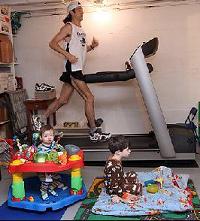 On June 25, 2017, Tidal Basin Run was proud to present the 8th annual Grant-Pierce Indoor Marathon - 211 laps around the 200-meter indoor track at Thomas Jefferson Community Center, in air-conditioned comfort
Complete results
---
REGULAR MONTHLY RUNS:
LOCATION: Hains Point (927 Ohio Drive SW) at the southern end of East Potomac Park, the starting line of many local runs. | MAP
DIRECTIONS: From Independence Avenue, follow Ohio Drive south over Tidal Inlet Bridge and continue to Buckeye Drive. Turn left at Buckeye Drive and continue east to Ohio Drive on the Washington Shipping Channel side facing Waterfront. Turn right and continue south to Parking Area 13 near Hains Point.
EVENTS:
11:50 AM - Free registration opens
12:00 noon - 1500-meter race begins
12:15 PM - 3000-meter and 5000-meter races begin
Post-event refreshments
START: 1500m and 3000m start at Parking Area 13 on Ohio Drive just north of Hains Point. 5000m starts about 142 meters north (because East Potomac Park is about 5142 meters around)
COURSES: 1500m and 3000m run north on Ohio Drive (facing traffic, which is sparse) to a turnaround point, then straight back to the common start /finish line. 5000m runs north on Ohio Drive alongside Washington Shipping Channel, left (west) on Buckeye Drive to Ohio Drive southbound (again facing traffic) alongside Potomac River, around Hains Point, and back to the common finish line.
BATHROOMS: Available near playground north of Hains Point
PARKING: Free at Hains Point
MAPS: | 1500m course (out'n'back) | 3000m course (out'n'back) | 5000m course (starts ~142m north of finish) | 10000m course (starts ~284m north of finish)
---
UPCOMING RUNS
All at Hains Point, East Potomac Park, Washington DC
#525 Wednesday, October 18, 2017 -- Prepare for Hallowe'en
#526 Wednesday, November 15, 2017 -- Prepare for Thanksgiving
#527 Wednesday, December 20, 2017 -- Santa Claus is coming to town
#528 Wednesday, January 17, 2017 -- Winter Wonderland
#529 Wednesday, February 21, 2017 -- Send us a (late) Valentine's Day card!
---
STANDARD INSTRUCTIONS
Thank you for registering for Tidal Basin Run's Presidential Fitness Runs. We look forward to welcoming you!
For directions, please visit our web page www.racepacket.com/tidalbasin
Please arrive about 11:45 AM to check in.
We start the 1500-meter run at 12:00 noon, and the longer runs start about 12:15 PM.

The start line for the 1500-meter and 3000-meter runs are near Parking Area 13 on the east side of Ohio Drive SW, before you get to Hains Point.
They run north on Ohio Drive to a turnaround point and back.
Since East Potomac Park is about 5142 meters around,
the start line for the 5000 meter is 142 meters north of the 1500-meter/3000-meter start, and
the start line for the 10000 meter is (142 x 2) = 284 meters north of the one-mile and 1500-meter/3000-meter start line.
Both the 5000-meter and 10000-meter runs circle East Potomac Park counter-clockwise, so you are facing any traffic, rare on national holidays.

As you finish your run, listen for your time and watch for it on the clock.
You receive a card indicating your overall place.
Checkmark the distance you ran and write your name, gender, age, city, and e-mail address if we don't already have it.
Then turn it in to the scorekeeper.
After everyone is in, we announce the finishers in order.
We post the results later in the day on our web page www.racepacket.com/tidalbasin
---
RESULTS:

2017


2016



2015

July 3, 2015 - #497½ - Celebrating Independence Day
June 17, 2015 - #497 | Video on WUSA-9 TV
June 3, 2015 - #496½ - Celebrating National Running Day

2014


2013

October 14, 2013 - #476¾ | Columbus Day Layoff Races
October 2, 2013 - #476½ | Congressional Intransigence Races
June 19, 2013 - #473 | Celebrating Juneteenth
June 1, 2013 - #472¾ | Triple Crown, Greenbrier Park, Arlington
May 27, 2013 - #472½ | Memorial Day Presidential Fitness Runs
May 11, 2013 - #471½ | Happy 55th Birthday to James Scarborough
January 21, 2013 - #468½ - Bluemont Park, Arlington VA

2012

December 30, 2012 - #467½ - The Sunday At The End Of The Year training runs - 1500m, 3000m, and 5000m
November 25, 2012 - #466½ - Post-Thanksgiving training runs - 1500m, 3000m, 5000m, and 10000m
November 12, 2012 - #465½ - Veteran's Day training runs - 1500m, 3000m, 5000m, and 10000m
October 8, 2012 - #464½ - Columbus Day training runs - 1500m, 3000m, 5000m, and 10000m
September 19, 2012 - #464 | The last race of summer 2012
September 3, 2012 - #463½ - Labor Day - 1 mile, 2 mile, 3 mile, and 6 mile
August 15, 2012 - #463 | A perfect race on a perfect day with a perfect game!
July 4, 2012 - #461½ - Independence Day - 1 mile, 5K, 10K
April 1, 2012 - Credit Union Cherry Blossom Ten Mile Run, Washington DC | Men's results | Women's results
February 29, 2012 - #457¾ - Leap Year Day - 1500m, 3000m
February 20, 2012 - #457½ - Presidents Day Presidential Fitness Runs - 1M, 3K, 5K, and 10K
January 16, 2012 - #455¾ - Dr. Martin Luther King, Jr. Memorial Presidential Fitness Runs - 1M, 3K, 8K, and 10K
January 2, 2012 - #455½ - New Year Celebration

2011

November 27, 2011 - #454½ - Post-Thanksgiving Presidential Fitness Runs - 1M, 3K, 5K, and 10K
November 11, 2011 - #453½ - Veterans Day Presidential Fitness Runs - 1M, 3K, 5K, and 10K
October 19, 2011 - #453 - Peter Blank's birthday!
October 10, 2011 - #452½ - Columbus Day Presidential Fitness Runs - 1M, 3K, 5K, and 10K
September 5, 2011 - #451½ - Labor Day Presidential Fitness Runs - 1M, 3K, 5K, and 10K
July 16, 2011 - #449¾ - 2nd annual Grant-Pierce Indoor Marathon,
Thomas Jefferson Community Center, Arlington VA
July 3, 2011 - #449½ - Independence Day Presidential Fitness Runs - 1M, 3K, 5K, and 10K
June 1, 2011 - #448¾ - National Running Day - 1M, 3K
May 30, 2011 - #448½ - Memorial Day Presidential Fitness Runs - 1M, 3K, 5K, and 10K
April 24, 2011 - #447½ - Easter Egg Roll Presidential Fitness Runs - 1M, 3K, 5K, and 10K
February 21, 2011 - #445½ - Presidents' Day Presidential Fitness Runs - 1M, 3K, 5K, and 10K | Photo of Wind, Blank, and Francke
January 17, 2011 - #443½ - Dr. Martin Luther King, Jr. Memorial Presidential Fitness Runs - 1M, 3K, 8K, and 10K

2010
November 28, 2010 - #442½ - Post-Thanksgiving Presidential Fitness Runs - 1M, 3K, 8K, and 10K
November 11, 2010 - #441½ - Veterans Day Presidential Fitness Runs - 1M, 3K, 8K, and 10K
October 11, 2010 - #440½ - Columbus Day Presidential Fitness Runs - 1M, 3K, 8K, and 10K
September 6, 2010 - #439½ - Labor Day Presidential Fitness Runs - 1M, 3M, 8K, 9K, and 10K
July 5, 2010 - #437½ - Independence Day Presidential Fitness Runs - 1M, 3M, 8K, and 10K
July 1, 2010 - #437¼ - 1st annual Grant-Pierce Indoor Marathon,
Thomas Jefferson Community Center, Arlington VA

May 31, 2010 - #436½ - Memorial Day Presidential Fitness Runs - 1M, 3M, and 10K
April 3, 2010 - #434½ - Easter Egg Roll Presidential Fitness Runs - 1M, 5K, and 10K
February 15, 2010 - #432½ - Presidents' Day Presidential Fitness Runs - 1M, 3M, and 10K
January 18, 2010 - #431½ - Dr. Martin Luther King, Jr. Memorial Presidential Fitness Runs - 1M, 3K, 6K, and 10K

2009
November 11, 2009 - #429½ - Presidential Fitness Runs
October 12, 2009 - #428½ - Presidential Fitness Runs
September 16, 2009 - #428 - Refreshments and post-race clean-up courtesy of Ruthi Postow Staffing Inc.
July 3, 2009 - #425½ - Presidential Fitness Runs
June 17, 2009 - #425 - Commemorative JUNETEENTH 144th Anniversary certificate for all participants | www.Juneteenth.us | www.juneteenth.com/history.htm
May 20, 2009 - #424
April 15, 2009 - #423
March 18, 2009 - #422
February 18, 2009 - #421
January 21, 2009 - #420

2008
December 17, 2008 - #419 - A memorial to Ray Blue
November 19, 2008 - #418
October 15, 2008 - #417
September 17, 2008 - #416
August 20, 2008 #415
July 16, 2008 #414
June 18, 2008 #413
May 21, 2008 #412
April 16, 2008 #411
March 19, 2008 - Last race of winter 2008 (no results collected)
February 29, 2008 #409.5 Leap Year Day
February 20, 2008 #409
January 16, 2008 #408

2007
November 21, 2007 #406
October 17, 2007 #405
September 19, 2007 #404
August 15, 2007 #403
July 18, 2007 #402
June 20, 2007 #401
May 16, 2007 #400
April 18, 2007 #399
March 21, 2007 #398
February 21, 2007 #397
January 17, 2007 #396

2006
December 20, 2006 #395
November 15, 2006 #394
October 18, 2006 #393
September 20, 2006 #392
September 11, 2006 | Photos by Jeanne Larrison: Before the start | The start | After the finish
August 2006 #391
July 2006 #390
June 2006 #389
May 2006 #388
April 2006 #387
March 2006 #386
February 2006 #385
January 2006 #384

2005
2004