Go Top
Best of
2015

records - Open & Age Group

RacePacket Home As of 3/15/2015 Official

Maryland

as of 1999 - Official Virginia as of March 24, 2012 Starting January 1, 2005, we are planning to list the best times, open and age group, for the year that are

run

in the area [Maryland, Virginia, & Washington, DC]. Listed to the right are the Maryland, Virginia, American, and World records as current as we can find. These are subject to correction and updates. Sadly, there is no database for records in Washington, DC. The plan is to update this page every week, allowing runners to seize a record if only for a moment.


For 2015 the color will be pink and the 2014 times will move over as 2015 times come in.

Color Coded Records stay until bested

Year

| | |
| --- | --- |
| January 1, 2015 and on | 2015 |
| January 1, 2014 and on | 2014 |
| January 1, 2013 and on | 2013 |
| January 1, 2012 and on | 2012 |
| January 1, 2011 and on | 2011 |
| January 1, 2010 and on | 2010 |
| January 1, 2009 and on | 2009 |
| January 1, 2008 and on | 2008 |
| January 1, 2007 and on | 2007 |
| January 1, 2006 and on | 2006 |
| January 1, 2005 and on | 2005 |
To view years 2005-2007 go HERE

* Pending record (Many records are incomplete. Also these do not include DC times)
- Means we know for sure there are faster times
Contact James Moreland to help update records
@ = STATE RECORD # = AMERICAN RECORD + = CHIP Time ? = distance (likely short)


Go Top
Men
Open Men


| | | | | | | | | | | | | | | | |
| --- | --- | --- | --- | --- | --- | --- | --- | --- | --- | --- | --- | --- | --- | --- | --- |
| Name | Distance | Time | Date | Race | 2014 | 2013 | 2012 | 2011 | 2010 | 2009 | 2008 | VA | MD | American | World |
| Michael Brown | 400 Meters | 49.8 | Mar 07 | Eastern Regional | 48.54 | 48:45 | 49.75 | 48:86 | 47.01 | 48:28 | 48.1 | | | 43.18 | 43.18 |
| Nicholas Berra | 800 Meters | 2:02.19 | Mar 07 | Eastern Regional | 2:02 | 2:02:51 | 1:55.63 | 1:47.3 | 1:51.92 | 1:53.95 | 1:52:26 | | | 1:42.60 | 1:40.91 |
| Tristan Stickland | 1500 Meters | 4:34.4 | Jul 09 | FSC Decathlon | 4:34.4 | 4:13 | 4:35.4 | 3:55.5 | 3:52:23 | 4:01.58 | 4:55.16 | | | 3:29.77 | 3:26.00 |
| Scott Baker | 1 Mile | 4:31.7 | Jan 01 | Winfield | 4:05.3 | 4:00.1 | 4:00 | 4:05 | 3:59.18 | 4:00:57 | 4:07.2 | | | 3:47.69 | 3:43.13 |
| Jacob Watson | 3000 Meters | 9:48.5 | Jan 25 | TJ Meet | 9:12 | 8:28.55 | 8:24.91 | 8:33.58 | 8:22.66 | 8:32.76 | 8:45.9 | | | 7:29.00 | 7:20.67 |
| Philip Rogers | 2 Mile | 11:07 | Jan 25 | HCS Elkhorn | 9:42.1 | 9:45 | 9:26 | 9:50 | 9:49 | 9:45.9 | 9:26:13 | | | 8:07.07 | 7:58.61 |
| Piotr Dybas | 5000 Meters | 14:59 | Mar 14 | Westchester | 14:16 | 14:07 | 14:24 | 14:17 | 14:03 | 14:29 | 14:22 | 13:54 | 14:12 | 12:53.6 | 12:37.35 |
| Paul Thistle | 4 Mile | 20:11 | Mar 14 | Four Courts | 18:44 | 18:49 | 19:13 | 19:44 | 19:47 | 18:48 | 19:23 | | | 17:39 | 17:24 |
| Kevin Shirk | 5 Mile | 25:42 | Jan 17 | Prediction | 22:41 | 22:41 | 22:34 | 22:57 | 22:55 | 22:47 | 22:42 | 22:09 | 23:39 | 22:04 | 22:02.2 |
| Chris Kwiatkowski | 10000 Meters | 30:26 | Mar 01 | St. Patrick's Day | 28:30 | 28:18 | 28:12 | 28:06 | 28:26 | 28:21* | 28:32 | 28:21* | 28:06* | 26:59.6 | 26:17.53 |
| Brian Schrader | 12000 Meters | 34:11 | Nov 16 | US National Championships | | 34:28 | 43:20 | 43:35 | 43:01 | 36:06 | 42:22 | | | 34:19 | 33:31 |
| Richard Morris | 15000 Meters | 54:30 | Jan 18 | Frostbite | 49:06 | 50:22 | 49:01 | 48:48 | 48:29 | 49:00 | 46:58 | 44:38 | 43:46 | 42:22 | 41:13 |
| Graham Peck | 10 Mile | 54:55 | Mar 01 | Tim Kennard | 45:29 | 46:06 | 45:15 | 45:36 | 45:43 | 45:56 | 46:14 | 47:19 | 50:01 | 46:13 | 44:23 |
| Jack Dasilva | 20000 Meters | 1:13:20 | Jan 17 | JFK | 1:09:33 | 1:06:13 | 1:05:04 | 1:05:50 | 1:10:02 | 1:07:09 | 1:06:29 | | 1:02:27 | 57:54 | 55:21* |
| Carlos Jamieson | Half Marathon | 1:07:43 | M ar 14 | Rock N Roll DC | 1:04:23 | 1:02:59 | 1:03:21 | 1:02:22 | 1:02:46 | 1:01:29 | 1:02:11 | 1:03:08 | 1:12:44 | 59:43* | 58:23* |
| Edward Dickenson | 25000 Meters | 1:46:46 | Jun 01 | Conquer the Cove | | | 1:30:46 | 1:32:32 | 2:15:06 | 1:33:16 | 1:34:13 | | | 1:14:21 | 1:11:50* |
| Jeffrey Redfern | 20 Mile | 1:59:39 | Sep 14 | Revenge of the Penguin | | 1:56:44 | 1:53:49 | 2:00:56 | 1:58:29 | 1:49:53 | 1:52:56 | | 1:47:44 | 1:38:38 | 1:38:38 |
| Patrick Moutlon | Marathon | 2:32:54 | Mar 14 | Rock N Roll DC | 2:18:24 | 2:16:09 | 2:13:08 | 2:13:45 | 2:13:11 | 2:14:04* | 2:11:56 | 2:14:32 | 2:20:08 | 2:04:58 | 2:02:57 |
| Shaun Pope | 50000 Meters | 3:42:52 | Feb 14 | Holiday Lake | 3:10:26 | 3:12:13 | 3:39:04 | 3:39:24 | 3:26:39 | 3:25:13 | 4:06:43 | | | 2:47.17 | 2:43:38 |
| Jim Walmsley | 50 Mile | 5:56:31 | Nov 22 | JFK | | 5:38:53 | 5:34:58 | 5:50:45 | 5:52:02 | 5:50:13 | 6:07:09 | | | 4:51:25 | 4:50:51 |
| Oliver Leblond | 100 Mile | 17:05:02 | Jun 07 | Old Dominion | | 18:30:53 | 17:14.06 | 16:16:47 | 16:32:57 | 18:29:57 | 19:49:12 | | | | 11:28:03 |
| Name | Distance | Time | Date | Race | 2014 | 2013 | 2012 | 2011 | 2010 | 2009 | 2008 | VA | MD | American | World |
19 & Younger Men


| | | | | | | | | | | | | | | | |
| --- | --- | --- | --- | --- | --- | --- | --- | --- | --- | --- | --- | --- | --- | --- | --- |
| Name | Distance | Time | Date | Race | 2014 | 2013 | 2012 | 2011 | 2010 | 2009 | 2008 | VA | MD | American | World |
| Evan Poulos | 400 Meters | 1:38.4 | Jan 12 | Jay TJ Meet | 49.53 | 50.36 | 49.75 | 49.68 | 50.2 | 48:28 | 48.7 | | | 43.87 | 43.87 |
| Evan Poulos | 800 Meters | 3:29 | Jan 12 | Jay TJ Meet | 2:02 | 2:04 | 1:55.63 | 1:53:22 | 2:03.37 | 1:54.23 | 2:00.4 | | | 1:44:30 | 1:41.73 |
| Tristan Strickland | 1500 Meters | 4:34.4 | Jul 09 | FSC Decathlon | 4:34.4 | 4:19.3 | 4:53.4 | 4:00.64 | 4:01.87 | 4:03.14 | 5:50.1 | | | 3:36.10 | 3:50.41 |
| Scott Baker | 1 Mile | 4:31.7 | Jan 01 | Winfield | 4:17 | 4:22 | 4:16.9 | 4:08 | 4:33 | 4:00.57 | 4:24.8 | | | 3:51.30 | 3:50.41 |
| Jacob Watson | 3000 Meters | 9:48.5 | Jan 25 | TJ Meet | 9:28.08 | 9:04.91 | 8:35.53 | 9:02.25 | 9:48.5 | 8:38.07 | 9:01.3 | | | 7:58.00 | 7:30.67 |
| Theo Woods | 2 Mile | 12:49 | Feb 08 | Resolution | 9:52 | 10:37 | 9:48 | 9:50 | 9:49 | 9:45.9 | 9:38 | | | | |
| Jonathan Hogue | 5000 Meters | 15:52 | Feb 22 | Love Rox | 15:31 | 14:07* | 15:35 | 14:49.58 | 14:46 | 15:42 | 15:01 | 15:11 | 15:33 | 13:38.39 | 12:46:53 |
| Kyle Pfohl | 4 Mile | 22:40 | Mar 14 | Four Courts | 18:57 | 21:18 | 20:42 | 22:42 | 21:12 | 21:09 | 21:11 | | | | |
| Tyler Cox-Philyaw | 5 Mile | 27:08 | Jan 17 | Prediction | 26:43 | 22:41 | 24:11 | 26:15 | 26:17 | 23:20* | 24:12 | 22:09 | 26:19 | 23:44 | |
| Kyle Pfohl | 10000 Meters | 35:14 | Mar 1 | St. Patrick's Day | 31:33 | 32:53 | 32:55 | 34:45 | 33:58 | 28:21* | 30:38 | 31:45 | 30:19 | 28:32.70 | 27:11.18 |
| Grant Faircoloth | 12000 Meters | 48:14 | Nov 16 | US National Championships | | 41:56 | 43:49 | | | 43:42 | 57:09 | | | 38:02 | |
| Kyle Pfohl | 15000 Meters | 55:45 | Jan 18 | Frostbite | 54:40 | 58:36 | 1:01:09 | 57:36 | 53:33 | 57:20 | 59:19 | 51:36 | 49:18 | 45:52 | |
| Charles Ranson | 10 Mile | 1:01:22 | Feb 14 | Blacksburg | 56:03 | 57:16 | 56:30 | 53:49 | 51:41 | 45:58 | 54:27 | 56:40 | 52:35 | 48:46 | |
| Teddy Gelman | 20000 Meters | 1:22:00 | Jan 17 | JFK | 1:19:03 | 1:15:44 | 1:14:30 | 1:12:30 | 1:25:16 | 1:18:47 | 1:13:34 | | 1:11:30 | 1:01:56 | |
| Andrew Lent | Half Marathon | 1:24:20 | Mar 14 | Rock N Roll DC | 1:17:52 | 1:05:36 | 1:12:56 | 1:11:30 | 1:14:00 | 1:02:15 | 1:04:38 | 1:04:21 | 1:17:42 | 1:04:42 | 1:00:38 |
| Caleb Amstutz | 25000 Meters | 2:11:28 | Jun 01 | Conquer the Cove | | | 2:17:59 | 2:25:10 | | | 1:58:35 | | | 1:19:59 | |
| Sergio Flores | 20 Mile | 2:19:02 | Sep 14 | Revenge of the Penguin | | 2:38:36 | 2:07:19 | 2:16:24 | 2:17:53 | 2:07:25 | 2:39:10 | | 2:08:00 | 1:58:45 | |
| Ethan Rambacher | Marathon | 3:34:49 | Mar 08 | Lower Potomac | 2:49:03 | 2:40:27 | 2:43:48 | 2:37:41 | 2:35:02 | 2:42.02 | 2:11:56 | 2:40:35 | 2:40:27 | 2:15:28 | 2:10:10 |
| Aaron Slabach | 50000 Meters | 3:55:20 | Feb 14 | Holiday Lake | 6:34.10 | 5:36:04 | | 4:24:22 | 6:04:29 | 4:10:43 | 6:23:27 | | | 3:00:28 | |
| Thomas McPhaul | 50 Mile | 7:52:44 | Jun 07 | North Face | | 8:21:18 | 7:41:04 | 9:53:06 | 8:34:42 | 8:30:53 | 9:08:02 | | | 5:30:42 | |
| Name | Distance | Time | Date | Race | 2014 | 2013 | 2012 | 2011 | 2010 | 2009 | 2008 | VA | MD | American | World |
35-39 Men


| | | | | | | | | | | | | | | | |
| --- | --- | --- | --- | --- | --- | --- | --- | --- | --- | --- | --- | --- | --- | --- | --- |
| Name | Distance | Time | Date | Race | 2014 | 2013 | 2012 | 2011 | 2010 | 2009 | 2008 | VA | MD | American | World |
| Anthony Majaren | 400 Meters | 1:01 | Mar 07 | Eastern Regional | 54.78 | 49.73 | 56.3 | 51.15 | 50.56 | 50.04 | 51.03 | | | 46.38 | |
| Robert Zaal | 800 Meters | 2:23 | Jun 18 | FSC Decathlon | 2:23 | 2:02.51 | | | 2:14 | 2:04.72 | 1:58:73 | | | 1:43.36 | |
| Chris Farmer | 1500 Meters | 6:35 | Jan 19 | Tidal Basin | 5:43.31 | 5:34.5 | 4:42 | 4:47.39 | 4:30 | 4:29 | 4:29 | | | 3:40.83 | |
| Chris Shaw | 1 Mile | 4:51.8 | Jan 25 | TJ Meet | 4:24 | 4:30 | 4:30 | 4:35 | 4:32 | 4:18.89 | 4:24 | | | 3:51:38 | 3:51.38 |
| Fabio Clavijo | 3000 Meters | 13:13.5 | Feb 08 | TJ Meet | | 9:21.17 | 9:26.3 | 9:26 | 9:35.4 | 8:37.94 | 9:16.7 | | | 7:29 | 7:29 |
| Chris Shaw | 2 Mile | 10:02.5 | Aug 09 | Going Green | 10:02.5 | 10:20 | 10:42 | 10:20 | 10:52 | 10:31 | 10:39.36 | | | | |
| Kevin Shirk | 5000 Meters | 15:38 | Feb 14 | Heart & Soles | 15:11 | 15:02 | 15:37 | 14:44 | 15:50 | 15:37 | 15:48 | 14:18 | 14:41 | 12:53.6 | 12:53.6 |
| Bradley Klimek | 4 Mile | 25:55 | Mar 14 | Four Courts | 20:38 | 20:33 | 20:09 | 20:05 | 20:39 | 21:10 | 20:39 | 21:21* | | | |
| Kevin Shirk | 5 Mile | 25:42 | Jan 17 | Prediction | 25:05 | 25:39 | 22:42 | 26:43 | 25:28 | 25:13 | 23:29 | 23:03 | 24:53 | 22:49 | |
| Richard Jennings | 10000 Meters | 35:05 | Mar 01 | St. Patrick's Day | 30:46 | 31:06 | 29:00 | 28:45 | 33:06 | 31:34 | 29:44 | 29:48 | 29:00* | 28:16 | 28:05 |
| Matthew Wright | 12000 Meters | 45:49 | Nov 16 | US National Championships | | 36:23 | 45:11 | 44:34 | 43:01 | 41:12 | 47:12 | 41:30* | | 34:42 | |
| Alex Addison | 15000 Meters | 57:16 | Jan 18 | Frostbite | 53:29 | 52:47 | 52:40 | 55:21 | 53:48 | 56:21 | 52:00 | 46:57 | 44:57 | 43:48 | |
| Brian Heidt | 10 Mile | 59:44 | Mar 01 | Reston | 49:02 | 50:41 | 47:33 | 47:56 | 48:22 | 47:43 | 51:03 | 48:49 | 51:17 | 47:40 | |
| Duane Novotni | 20000 Meters | 1:25:35 | Jan 17 | JFK | 1:17:31 | 1:14:50 | 1:17:59 | 1:08:10 | 1:12:46 | 1:07:09 | 1:12:21 | | 1:05:51 | 1:00:04 | |
| Wayne Blas | Half Marathon | 1:13:32 | Mar 14 | Rock N Roll DC | 1:10:33 | 1:05:32 | 1:03:21 | 1:09:16 | 1:08:16 | 1:07:12 | 1:06:55 | 1:03:36 | 1:23:59- | 1:03:24 | 1:01:06 |
| Jeff Jennings | 25000 Meters | 2:22:32 | Jun 01 | Conquer the Cove | | | 1:47:00 | 1:48:59 | 2:39:04 | 1:48:52 | 1:39:37 | | | 1:16:57 | |
| Daniel Ruane | 20 Mile | 2:06:19 | Feb 22 | TS Distance Series | | 2:06:18 | 2:13:12 | 2:11:30 | 1:58:29 | 1:49:53 | 1:56:54 | 2:06:15* | 1:55:19 | | |
| Daven Oskvig | Marathon | 2:38:05 | Mar 14 | Rock N Roll DC | 2:18:24 | 2:16:17 | 2:15:37 | 2:23:01 | 2:13:29 | 2:24:03 | 2:26:48 | 2:17:49 | 2:25:18 | 2:11:40 | 2:03:59 |
| Frank Gonzalez | 50000 Meters | 3:59:41 | Feb 14 | Holiday Lake | 3:36:53 | 3:12:13 | 3:54:10 | 3:42:30 | 3:51:08 | 3:37:26 | 4:06:43 | | | | |
| Ryan Aschbrenner | 50 Mile | 6:00:14 | Nov 22 | JFK | | 5:55:37 | 5:56:19 | 5:43:24 | 6:09:58 | 5:50:13 | 6:07:09 | | | | |
| Brian Rusiecki | 100 Mile | 19:06:09 | May 17 | Massanutten | | 21:33:44 | 17:14:06 | 17:20:15 | 20:56:43 | 20:43:04 | 21:21:38 | | | | |
| Name | Distance | Time | Date | Race | 2014 | 2013 | 2012 | 2011 | 2010 | 2009 | 2008 | VA | MD | American | World |
40-44 Men


| | | | | | | | | | | | | | | | |
| --- | --- | --- | --- | --- | --- | --- | --- | --- | --- | --- | --- | --- | --- | --- | --- |
| Name | Distance | Time | Date | Race | 2014 | 2013 | 2012 | 2011 | 2010 | 2009 | 2008 | VA | MD | American | World |
| Adam Alderton | 400 Meters | 55:51 | Mar 07 | Eastern Regional | 57.42 | 51.86 | 54.34 | 51.39 | 53.16 | 51:50 | 53.47 | | | 48.44 | 47.86 |
| Michael Jackson | 800 Meters | 2:25.66 | Mar 07 | Eastern Regional | 2:11.49 | 2:03.36 | 2:09.8 | 2:05.31 | 2:04.8 | 2:00.93 | 2:11:9 | | | 1:48.81 | 1:48.81 |
| Paul Kerrigan | 1500 Meters | 6:57 | Jan 19 | Tidal Basin | 4:35.7 | 4:37 | 4:38 | 4:20.9 | 4:19.7 | 5:01 | 4:52.39 | | | 3:44.06 | 3:44.89 |
| Brian Shadrick | 1 Mile | 4:45.7 | Jan 01 | Winfield | 4:28.6 | 4:09.2 | 4:28 | 4:15 | 4:25.5 | 4:31.12 | 4:32 | | | 3:54.91 | 3:54.91 |
| Anthony Belber | 3000 Meters | 10:26.8 | Feb 08 | TJ Meet | 11:30 | 8:28.55 | 10:09.7 | 10:23 | 8:51.23 | 8:59.55 | 9:28.6 | | | 7:48.33 | 7:48.33 |
| Karsten Brown | 2 Mile | 10:25 | May 29 | Owl Track | 10:25 | 10:55.6 | 10:48.6 | 10:43 | 10:19.6 | 9:47.33 | 10:11 | | | | |
| Bruce Berger | 5000 Meters | 15:56 | Jan 01 | First Day | 15:18 | 15:53 | 15:53 | 15:26 | 15:39 | 15:20 | 15:58 | 14:58 | 15:35 | 14:17.36 | 13:43.15 |
| Keith Matiskella | 4 Mile | 21:32 | Feb 08 | Sweetheart 4 ever | 20:52 | 21:10 | 21:10 | 22:12 | 22:19 | 19:56* | 22:23 | 21:36* | | | |
| Kevin Yates | 5 Mile | 29:05 | Feb 01 | Country Run | 25:59 | 25:34 | 24:19 | 25:04 | 24:18 | 25:03 | 26:48 | 23:13# | 25:17 | 23:25 | 23:13 |
| Martin Lanz | 10000 Meters | 35:38 | Mar 01 | St. Patrick's Day | 31:37 | 32:44 | 30:46 | 31:39 | 31:47 | 30:29 | 33:11 | 29:59 | 30:29 | 29:05 | 28:30.88 |
| Michael Wardian | 12000 Meters | 38:24 | Nov 16 | US National Championships | | 38:29 | 50:42 | 48:21 | 47:41 | 44:53 | 45:13 | 42:46* | | 36:12 | |
| Nicholes Dembinski | 15000 Meters | 1:01:30 | Jan 18 | Frostbite | 50:22 | 57:27 | 52:35 | 55:56 | 57:09 | 55:23 | 52:17 | 47:37 | 47:37 | 45:10 | 44:14 |
| Ignacio Moore | 10 Mile | 1:00:07 | Feb 14 | Blacksburg | 52:36 | 53:03 | 51:10 | 51:48 | 52:10 | 52:10 | 54:30 | 50:00 | 53:48 | 49:34 | 47:26 |
| Joe Buccino | 20000 Meters | 1:18:24 | Jan 17 | JFK | 1:22:54 | 1:18:04 | 1:18:45 | 1:15:11 | 1:16:53 | 1:16:19 | 1:13:35 | | 1:07:03 | 1:03:06 | |
| Jim Moore | Half Marathon | 1:20:28 | Mar 14 | Rock N Roll DC | 1:11:13 | 1:11:49 | 1:06:42 | 1:04:50 | 1:08:57 | 1:10:03 | 1:08:27 | 1:05:01 | 1:23:21- | 1:05:01 | 1:02:28 |
| William Vickery | 25000 Meters | 2:09:24 | Jun 01 | Conquer the Cove | | | 1:42:08 | 1:54:03 | 2:15:06 | 1:35:34 | 1:39:12 | 1:37:17* | | 1:16:53* | |
| Robert Wolfe | 20 Mile | 2:07:45 | Aug 31 | Charm City | | 2:17:38 | 2:09:13 | 2:07:13 | 2:01:17 | 2:12:30 | 2:07:48 | 1:53:34* | 1:51:28 | 1:42:08 | |
| Michael Wardian | Marathon | 2:45:55 | Mar 14 | Rock N Roll DC | 2:25:42 | 2:32:37 | 2:32:39 | 2:26:46 | 2:27:50 | 2:34:08 | 2:34:01 | 2:18:42 | 2:32:52 | 2:12:47 | 2:08:46 |
| Daniel Spearin | 50000 Meters | 4:15:43 | Feb 147 | Holiday Lake | 3:06:07 | 3:55:24 | 4:09:51 | 3:46:10 | 3:42:18 | 3:25:13 | 4:12:07 | | | 2:59:36 | |
| James Blandford | 50 Mile | 6:41:54 | Apr 12 | Bull Run | | 6:36:10 | 6:46:19 | 6:44:24 | 7:04:46 | 6:06:51 | 6:45:48 | | | 5:10:13 | |
| Oliver Leblond | 100 Mile | 17:05:02 | Jun 07 | Old Dominion | | 18:30:53 | 19:05:04 | 17:40:36 | 20:25:48 | 18:29:57 | 20:58:53 | | | 13:15:50 | |
| Name | Distance | Time | Date | Race | 2014 | 2013 | 2012 | 2011 | 2010 | 2009 | 2008 | VA | MD | American | World |
Go Top
45-49 Men


| | | | | | | | | | | | | | | | |
| --- | --- | --- | --- | --- | --- | --- | --- | --- | --- | --- | --- | --- | --- | --- | --- |
| Name | Distance | Time | Date | Race | 2014 | 2013 | 2012 | 2011 | 2010 | 2009 | 2008 | VA | MD | American | World |
| John Curtis | 400 Meters | 56.12 | Mar 07 | Eastern Regional | 55.37 | 53.55 | 61.1 | 53.08 | 53.2 | 53.75 | 55.29 | | | 50.20 | 50.20 |
| Nicholas Berra | 800 Meters | 2:02.19 | Mar 07 | Eastern Regional | 2:12.85 | 2:02.80 | 2:31 | 2:18.5 | 2:04.02 | 2:00.43 | 2:12:44 | | | 1:54.18 | 1:54.18 |
| John Way | 1500 Meters | 5:16.9 | Jul 09 | FSC Decathlon | 5:16.9 | 5:06 | 4:52 | 4:45.88 | 5:12 | 5:00 | 4:31.74 | | | 3:56.39 | 3:52.43 |
| Doug Mock | 1 Mile | 4:56.08 | Mar 07 | Eastern Regional | 4:40 | 4:24.71 | 4:46.6 | 4:39 | 4:35.3 | 4:35 | 4:41.63 | | | 4:18.83 | 4:16.75 |
| Patrick Bell | 3000 Meters | 11:13.5 | Jan 11 | TJ Meet | 11:14 | 9:03.01 | 9:31.3 | 10:10.09 | 9:56.6 | 9:29.88 | 9:41.3 | | | 8:36.36 | 8:27.70 |
| Phil Lang | 2 Mile | 11:56 | Jan 25 | HCS Elkhorn | 10:23 | 13:09 | 10:41.8 | 10:57 | 10:54 | 10:46.91 | 10:23 | | | | |
| Ray Pugsley | 5000 Meters | 17:06 | Jan 01 | Reston New Year | 16:19 | 15:18 | 16:11 | 16:28 | 16:22 | 16:37 | 16:07 | 15:53 | 16:34 | 14:34.27 | 14:23.60 |
| Scott Mersiowky | 4 Mile | 23:42 | Feb 08 | Sweetheart 4 ever | 21:45 | 22:40 | 22:10 | 22:30 | 22:48 | 22:32 | 22:35 | | | | |
| Greg Dawson | 5 Mile | 30:00 | Feb 07 | Toano Icy | 26:22 | 24:38 | 25:44 | 24:41 | 24:14 | 25:00 | 26:04 | 24:41 | 26:17 | 24:41 | 23:59 |
| Peter Sherry | 10000 Meters | 36:27 | Feb 14 | For the Love of It | 34:37 | 34:55 | 34:40 | 34:44 | 34:16 | 34:25 | 33:10 | 32:31 | 32:37 | 30:50 | 29:52 |
| Edmund Burke | 12000 Meters | 40:35 | Nov 16 | US National Championships | | 40:42 | 50:54 | 50:40 | 53:39 | 46:20 | 43:52 | | 48:21* | 40:45 | |
| Jim Fisher | 15000 Meters | 1:01:17 | Jan 18 | Frostbite | 57:00 | 55:12 | 53:02 | 54:38 | 54:58 | 56:31 | 56:01 | 48:25 | 54:35 | 47:28 | 46:09 |
| Steve Speirs | 10 Mile | 59:20 | Jan 10 | TS Tune-up | 55:14 | 55:22 | 55:10 | 53:39 | 55:50 | 53:58 | 53:04 | 52:05 | 53:59 | 51:41 | 49:36 |
| Jad Daley | 20000 Meters | 1:22:32 | Aug 17 | Leesburg | 1:20:50 | 1:11:41 | 1:11:54 | 1:20:54 | 1:15:15 | 1:17:51 | 1:15:16 | | 1:10:30 | 1:05:46 | |
| Alexander Hetherington | Half Marathon | 1:20:27 | Feb 14 | Dahlgren | 1:16:37 | 1:11:44 | 1:14:11 | 1:10:57* | 1:14:42 | 1:08:33 | 1:13:22 | 1:12:13+ | 1:19:37* | 1:08:05 | 1:04:41 |
| Ben Lawry | 25000 Meters | 2:14:23 | Jun 01 | Conquer the Cove | | | 1:35:18 | 1:46:39 | | 1:42:13 | 1:47:52 | | | 1:22:24 | |
| Jerry Henderson | 20 Mile | 2:19:26 | Aug 31 | Charm City | | 2:05:46 | 2:08:31 | 2:25:25 | 2:15:30 | 2:04:40 | 2:05:13 | 1:59:06* | 2:06:30 | 1:49:10 | |
| James Beyer | Marathon | 2:37:31 | Mar 14 | Rock N Roll DC | 2:36:19 | 2:41:52 | 2:42:45 | 2:37:27 | 2:38:11 | 2:43:29 | 2:42:39 | 2:36:09 | 2:39:42 | 2:25:50 | 2:14:21 |
| Conrad Fernandes | 50000 Meters | 4:17:29 | Feb 07 | Mid-Maryland | 3:45:23 | 3:30:42 | 4:20:33 | 3:54:34 | 4:34:32 | 4:19:05 | 4:10:44 | | | | |
| Eric Hunsziker | 50 Mile | 7:11:46 | Nov 22 | JFK | | 7:11:29 | 6:59:37 | 6:15:30 | 6:19:52 | 6:24:20 | 7:29:26 | | | | |
| Kevin Meltzer | 100 Mile | 18:40:23 | May 17 | Massanutten | | 25:14:29 | 21:29:34 | 21:35:30 | 22:12:07 | 25:08:25 | 23:24:31 | | | 14:31:11 | |
| Name | Distance | Time | Date | Race | 2014 | 2013 | 2012 | 2011 | 2010 | 2009 | 2008 | VA | MD | American | World |
50-54 Men

Name
Distance
Time
Date
Race
2014

2013
2012

2011
2010

2009

2008

VA
MD
American
World
Adrian Harrison

400 Meters
60.65

Jan 19



PG Sportsfest
60.65

55.10

60:24

57.01

56.31

55.28

54.7





51.39
51.39
John Northup
800 Meters
2:18.23

Mar 07

Eastern Regional
2:31.56

2:11.44

2:32

2:15.33

2:16.57

2:09.07

2:13





1:58.65
1:58.65
Ted Poulos

1500 Meters
5:22.7


Jan 12

Jay TJ Meet

5:02

4:54.45

4:42

4:48

4:49.4

4:53.44

4:40.44





4:05.80
4:05.20
John Northup

1 Mile

5:04.38

Mar 07

Eastern Regional
4:44

4:39.3

4:45

4:51.27

4:56

4:44.44

4:32.8





4:27.90
4:27.90
Ted Poulos
3000 Meters

10:39.27

Mar 07

Eastern Regional

10:39.97

9:11.44

10:07

10:24.5

9:43.24

9:16:42

9:33.98





8:53.80
8:53.70
Ted Poulos

2 Mile
12:01

Mar 15

HCS Longfellow
10:48.8

11:13.6

10:45.5

10:42.2

11:00

10:49.45

10:44









Edward Dickenson
5000 Meters
17:44

Feb 14



Blacksburg
16:19

17:20

16:38

16:40

16:34

16:40

16:32

16:29
16:50
15:36
14:53.2
Ted Poulos

4 Mile
24:15

Feb 08

Sweetheart 4 ever
22:45

22:32

22:31

22:37

22:30

22:33

22:39







Chris Northup

5 Mile
29:52

Mar 14

Forest of Needwood

28:48

28:21

25:45*

25:57

28:00

27:36

27:24

25:57
27:50*
25:31
24:44

Brian Daugherty

10000 Meters
38:49


Feb 14

For the Love of It
35:22

34:48

34:58

34:23

34:54

34:48

34:01

33:54
24:25*
31:48
30:37
Reuben Henderson

12000 Meters
42:37

Nov 16

US National Championships



42:13

47:39

52:24

52:01

49:33

45:16

47:55*


39:30


Bill Dinkin

15000 Meters
59:57


Jan 18

Frostbite

59:04

58:29

55:05

56:30

56:00

55:15

55:53

53:32
56:21
49:24
47:52

Marc Edwards

10 Mile
1:05:13


Feb 14

Blacksburg
56:47

55:25

56:21

56:35

55:20

55:44

57:48

56:23
54:16
52:53
50:43

Kevin D'Amanda

20000 Meters
1:22:26

Jan 17

JFK

1:17:40

1:17:01

1:18:58

1:20:57

1:16:22

1:14:33

1:14:55



1:16:27
1:05:50


Fernando Blanco

Half Marathon
1:18:07

Mar 14

Rock N Roll DC
1:15:31

1:17:25

1:18:22

1:17:33

1:15:37

1:18:39
1:11:11
1:25:08
1:09:30
1:06:42

Edward Dickenson

25000 Meters
1:46:46

Jun 01

Conquer the Cove





1:54:30

2:00:52

3:07:23

1:33:16

1:39:07
1:43:56*


1:24:12



Jon Leiding

20 Mile
2:16:31


Feb 22

TS Distance Series


2:12:49

2:46:15

2:19:16

2:11:39

2:03:29

2:21:02

2:14:01*
2:08:41
1:51:44


Tom Jensen

Marathon
2:59:14


Mar 14

Rock N Roll DC
2:53:23

2:45:33

2:47:29

2:53:10

2:43:59

2:48.00

2:46:49
2:37:22
2:53:09
2:25:51
2:19:29
David Phipps

50K
4:15:31


Feb 07

Mid-Maryland
4:23:31

4:04:42

4:24:40

3:51:41

4:28:40

4:23:25

4:29:05




3:19:33


George Worth

50 Mile
7:31:38


Nov 22

JFK



6:21:19

7:11:18

6:49:57

6:29:19

7:17:27

7:37:54





5:35:03


David Peterman

100 Mile
27:18:04


May 17

Massanutten


29:29:22

21:07:36

21:05:27

22:10:11

26:22:18

27:49:20





15:39:18


Name
Distance
Time
Date
Race
2014

2013
2012

2011
2010

2009

2008
VA
MD
American
World
Go Top
55-59 Men


| | | | | | | | | | | | | | | | |
| --- | --- | --- | --- | --- | --- | --- | --- | --- | --- | --- | --- | --- | --- | --- | --- |
| Name | Distance | Time | Date | Race | 2014 | 2013 | 2012 | 2011 | 2010 | 2009 | 2008 | VA | MD | American | World |
| Jerry Molyneaux | 400 Meters | 58:13 | Mar 07 | Eastern Regional | 1:11 | 57.87 | 1:01 | 1:10.27 | 57.25 | 55.60 | 57.66 | | | 53.32 | 52.60 |
| Thomas Cawley | 800 Meters | 2:12.31 | Mar 07 | Eastern Regional | 2:30.55 | 2:12.84 | 2:50 | 2:14.84 | 2:14.65 | 2:09.92 | 2:21.92 | | | 2:06.83 | 2:03.70 |
| Michael Cannon | 1500 Meters | 6:10 | Jan 21 | Tidal Basin | 5:41.8 | 4:59.7 | 4:54.5 | 4:51.69 | 4:35.71 | 5:11 | 5:13 | 4:35.71* | | 4:20.76 | 4:12.50 |
| Henry Wigglesworth | 1 Mile | 5:10.16 | Mar 07 | Eastern Regional | 4:55.8 | 5:00.16 | 4:54.7 | 4:48.52 | 4:48.11 | 4:58.47 | 4:36.8 | 4:48.11* | | 4:42.7 | 4:40.40 |
| Tim Arnade | 3000 Meters | 11:54.6 | Jan 25 | TJ Meet | 10:47.63 | 10:00.8 | 9:56 | 9:51.66 | 10:30.85 | 9:56.9 | 10:57 | | | 9:37.88 | 8:57.28 |
| John Chall | 2 Mile | 12:39 | Jan 25 | HCS Elkhorn | 11:33 | 11:20.6 | 11:04.9 | 11:11 | 12:09.9 | 11:50.79 | 11:48.04 | | | | |
| Pete Gibson | 5000 Meters | 18:13 | Jan 24 | Frosty | 16:51 | 17:33 | 17:03 | 17:07 | 16:57 | 17:47 | 17:11 | 17:06 | 17:59 | 16:07 | 15:29.7 |
| Jack Morrison | 4 Mile | 25:48 | Feb 08 | Sweetheart 4 ever | 25:59 | 23:44 | 24:30 | 23:43 | 25:37 | 23:15 | 24:10 | 23:40* | | | |
| Dan Lawson | 5 Mile | 31:47 | Feb 01 | Country Run | 30:23 | 27:09 | 27:15 | 28:33 | 29:18 | 28:33 | 28:11 | 27:23 | 28:20 | 26:36 | 27:15 |
| Elias Tintas | 10000 Meters | 40:51 | Mar 01 | St. Patrick's Day | 36:02 | 37:23 | 35:26 | 35:44 | 35:59 | 36:38 | 35:29 | 35:31 + | 33:48* | 32:27.7 | 32:27.7 |
| Ken Youngers | 12000 Meters | 42:46 | Nov 16 | US National Championships | | 42:03 | 55:43 | 61:00 | 54:52 | 51:30 | 50:13 | 45:58* | | 41:24 | |
| Michael Kerner | 15000 Meters | 1:08:47 | Jan 18 | Frostbite | 58:50 | 1:00:28 | 56:59 | 58:26 | 57:16 | 56:42 | 57:56 | 54:00 | 57:03 | 50:45 | |
| Pete Gibson | 10 Mile | 1:00:27 | Jan 10 | TS Tune-up | 58:53 | 1:02:45 | 55:36 | 59:19 | 58:48 | 59:46 | 58:32 | 57:35 | 1:00:17 | 54:25 | 54:25 |
| Mark Hanlon | 20000 Meters | 1:27.00 | Jan 17 | JFK | 1:29:12 | 1:22:12 | 1:17:21 | 1:24:22 | 1:28:45 | 1:27:43 | 1:17:44 | 1:19:12* | 1:16:34 | 1:08:07 | |
| Christopher Ryan | Half Marathon | 1:26:00 | Mar 14 | Rock N Roll DC | 1:22:55 | 1:22:37 | 1:17:09 | 1:19:39 | 1:21:36 | 1:24:43 | 1:22:58 | 1:17:04 | 1:33:41- | 1:10:23 | 1:16:46 |
| Michael Mitchell | 25000 Meters | 2:34:32 | Jun 01 | Conquer the Cove | | | 1:37:10 | 1:52:33 | 3:16:23 | 1:57:23 | 1:41:38 | 1:45:06* | | 1:29:56 | |
| Tom Randolph | 20 Mile | 2:43:12 | Feb 22 | TS Distance Series | | 2:16:56 | 2:23:58 | 2:28:47 | 2:31:47 | 2:34:42 | 2:26:54 | 2:11:39* | 2:35:52 | 1:57:26 | |
| Mark Yost | Marathon | 3:01:21 | Mar 08 | Lower Potomac | 2:46:34 | 2:43:25 | 2:51:48 | 2:55:51 | 2:56:32 | 2:59:36 | 3:08:42 | 2:42:18 | 2:54:19 | 2:33:49 | 2:25:56 |
| John Robinson | 50000 Meters | 5:04:48 | Feb 14 | Holiday Lake | 4:32:48 | 4:15:56 | 5:53:00 | 4:08:25 | 4:42:52 | 4:31:38 | 5:20:28 | | | 3:28:47 | |
| Henry Peck | 50 Mile | 7:42:21 | Nov 22 | JFK | | 7:33:20 | 7:14:56 | 7:53:04 | 8:14:03 | 8:04:50 | 7:47:15 | | | 5:53:08 | |
| Andy Peterson | 100 Mile | 28:02:32 | May 17 | Massanutten | | 29:24:10 | 25:50:12 | 23:58:01 | 23:45:45 | 27:34:27 | 22:23:44 | | | 18:56:04 | |
| Name | Distance | Time | Date | Race | 2014 | 2013 | 2012 | 2011 | 2010 | 2009 | 2008 | VA | MD | American | World |
| | | | | | | | | | | | | | | | |
| --- | --- | --- | --- | --- | --- | --- | --- | --- | --- | --- | --- | --- | --- | --- | --- |
| Name | Distance | Time | Year | Race | 2014 | 2013 | 2012 | 2011 | 2010 | 2009 | 2008 | VA | MD | American | World |
| Archie Glaspy | 400 Meters | 1:02:3 | Mar 07 | Eastern Regional | 58.21 | 58.13 | 65.38 | 68:38 | 57.73 | 57.01 | 65.36 | | | 55.13 | 53.88 |
| Stephen Chantry | 800 Meters | 2:30.22 | Mar 07 | Eastern Regional | 2:37 | 2:21.86 | 2:26 | 2:36 | 2:51.44 | 2:25.11 | 2:46.13 | | | 2:08.56 | 2:08.56 |
| Peter Blank | 1500 Meters | 7:28 | Jan 19 | Tidal Basin | 5:25.8 | 5:23 | 5:23 | 6:31.85 | 6:03.9 | 5:52.8 | 5:27.47 | | | 4:24.00 | 4:24.00 |
| Spider Rossiter | 1 Mile | 5:41.91 | Jan 04 | PG Sportsfest | 5:24 | 5:16 | 5:26.2 | 5:29:98 | 5:24.6 | 5:25.37 | 5:32.8 | | | 4:50.96 | 4:50.96 |
| Stephen Chantry | 3000 Meters | 10:51.3 | Mar 07 | Eastern Regional | 11:23.1 | 10:39.75 | 11:14.49 | 12:50.34 | 12:28.8 | 11:07.33 | 11:09 | | | 10:13.80 | 9:29.47 |
| Felix Lopez | 2 Mile | 15:50 | Feb 08 | Resolution | 12:35.4 | 12:35 | 13:58 | 12:12 | 13:24 | 13:31.83 | 12:25.63 | | | | |
| Tom McCormack | 5000 Meters | 17:36 | Mar 14 | Mendota | 17:31* | 17:32* | 18:24 | 18:53 | 18:15 | 18:50 | 18:53 | 17:32 | 19:42 | 16:52 | 16:16.51 |
| Steve Sakry | 4 Mile | 28:34 | Feb 08 | Sweetheart 4 ever | 26:19 | 26:04 | 28:29 | 26:55 | 27:51 | 24:14 | 25:16 | | | | |
| Bob Becker | 5 Mile | 34:47 | Feb 07 | Langley | 31:25 | 30:39 | 29:34 | 30:21 | 30:42 | 30:25 | 31:55 | 28:08 | 32:43 | 28:00 | 27:59 |
| Ken Krehbiel | 10000 Meters | 44:21 | Mar 01 | St. Patrick's Day | 37:08 | 38:55 | 38:07 | 39:21 | 37:49 | 37:08 | 39:18 | 35:09 | 37:00* | 34:27 | 34:14.08 |
| Tom McCormack | 12000 Meters | 42:55* | Nov 16 | US National Championships | | 43:04* | 54:09 | 1:15:02 | 58:30 | 51:42 | 52:25 | 46:30* | | 43:43 | |
| Peter Tegroen | 15000 Meters | 1:11:13 | Jan 18 | Frostbite | 1:06:04 | 58:28 | 58:31 | 1:07:01 | 1:06:13 | 1:05:51 | 1:06:32 | 57:06 | 1:02:45 | 54:20 | |
| Ed Jordan | 10 Mile | 1:10:03 | Mar 01 | Tim Kennard | 1:05:00 | 1:03:52 | 1:00:13 | 1:00:14 | 1:01:20 | 1:03:12 | 1:05:11 | 1:01:43 | 1:04:51 | 57:48 | 57:47 |
| Ken Krehbiel | 20000 Meters | 1:36:40 | Jan 17 | JFK | 1:30:24 | 1:28:08 | 1:33:00 | 1:40:43 | 1:20:56 | 1:28:21 | 1:26:21 | | 1:21:33 | 1:15:15 | |
| Scott Boylan | Half Marathon | 1:34:15 | Mar 14 | Rock N Roll DC | 1:29:03 | 1:27:47 | 1:27:23 | 1:29:01 | 1:25:10 | 1:27:05 | 1:28:02 | 1:25:51 | 1:32:13 | 1:16:55 | |
| Richard Amstutz | 25000 Meters | 2:42:43 | Jun 01 | Conquer the Cove | | | 2:12:13 | 2:22:37 | 3:21:43 | 2:04:45 | 2:02:14 | 1:50:24* | | 1:36:20 | |
| Bill Hart | 20 Mile | 2:34:36 | Feb 22 | TS Distance Series | | 2:59:47 | 2:41:30 | 2:38:43 | 2:35:28 | 2:45:30 | 2:36:49 | 2:26:33* | 2:38:19 | 2:03:16 | |
| Bruce Kesselring | Marathon | 3:32:28 | Mar 14 | Rock N Roll DC | 3:19:08 | 3:03:33 | 3:04:11 | 3:09:42 | 3:13:44 | 3:07:50 | 3:15:18 | 2:54:45 | 3:05:07 | 2:42:44 | 2:36:30 |
| Jerry Jared | 50000 Meters | 5:46:12 | Feb 14 | Holiday Lake | 6:32:09 | 4:34:14 | 5:27:13 | 4:21:04 | 5:08:13 | 5:02:44 | 5:35:09 | | | 3:35:51 | |
| Tom Dekornfeld | 50 Mile | 8:32:58 | Nov 22 | JFK | | 9:01:54 | 8:43:04 | 8:21:28 | 8:11:30 | 8:44:36 | 9:44:06 | | | 6:24:18 | |
| Paul Crickard | 100 Mile | 34:17:19 | May 17 | Massanutten | | 25:37:46 | 26:52:47 | 23:16:59 | 26:52:31 | 35:07:50 | 32:26:21 | | | 18:02:35 | |
| Name | Distance | Time | Date | Race | 2014 | 2013 | 2012 | 2011 | 2010 | 2009 | 2008 | VA | MD | American | World |
65-69 Men


| | | | | | | | | | | | | | | | |
| --- | --- | --- | --- | --- | --- | --- | --- | --- | --- | --- | --- | --- | --- | --- | --- |
| Name | Distance | Time | Date | Race | 2014 | 2013 | 2012 | 2011 | 2010 | 2009 | 2008 | VA | MD | American | World |
| Charles Allie | 400 Meters | 1:2.89 | Mar 07 | Eastern Regional | 1:08.69 | 58.81 | 1:10 | 1:11.3 | 63.89 | 65.72 | 66.5 | | | 58.05 | 57.52 |
| Wayne Jacobs | 800 Meters | 3:00.94 | Mar 07 | Eastern Regional | 3:47 | 2:30.82 | 2:47 | 2:53 | 2:35.99 | 2:27.61 | 2:54.75 | | | 2:17.20 | 2:14.33 |
| Jay Wind | 1500 Meters | 6:34.9 | Jan 12 | Jay Track | 7:56 | 6:43 | 6:07 | 5:38.16 | 6:03.52 | 6:01.6 | 6:16 | | | 4:56.31 | 4:39.87 |
| Jay Wind | 1 Mile | 7:08 | Jan 18 | PG Sportsfest | 5:50 | 5:46.51 | 6:13.14 | 5:53.74 | 5:31.1 | 5:46.03 | 6:14.04 | | | 5:12.21 | 4:56.40 |
| Jay Wind | 3000 Meters | 13:13.4 | Mar 07 | Eastern Regional | 16:56 | 10:55.02 | 14:12 | 18:18 | 11:19 | 11:26.24 | 12:33.43 | | | 10:49.81 | 9:47.40 |
| Mike Fleming | 2 Mile | 16:10 | Jan 04 | Thunder Hill | 13:04 | 13:49 | 13:56.6 | 13:36.5 | 13:38 | 13:28.79 | 12:38 | | | | |
| Mick Slonaker | 5000 Meters | 19:56 | Mar 15 | Kelly's Shamrock | 20:23 | 20:39 | 20:26 | 19:40 | 19:16 | 19:47 | 20:32 | 19:53 | 20:38 | 17:40.4 | 16:38.80 |
| Joe Loveland | 4 Mile | 32:12 | Feb 08 | Bear Run | 27:38 | 27:29 | 27:11 | 27:31 | 25:45 | 26:36 | 27:45 | | | | |
| Dale Abrahamson | 5 Mile | 36:07 | Feb 14 | Gloucester | 34:09 | 31:56 | 30:46 | 31:39 | 32:14 | 32:16 | 33:48 | 31:07 | 35:50 | 29:41 | 28:36 |
| Dale Abrahamson | 10000 Meters | 45:18 | Feb 28 | Fort Eustis | 42:57 | 45:40 | 42:59 | 44:46 | 40:35* | 41:28 | 41:15 | 40:33+ | 39:16 | 35:52 | 34:42.20 |
| Lloyd Hansen | 12000 Meters | 47:36 | Nov 16 | US National Championships | | 47:02 | 59:51 | 54:29 | 1:04:07 | 54:38 | 60:06 | 53:12* | | 48:28 | |
| Norbert David | 15000 Meters | 1:18:07 | Jan 18 | Frostbite | 1:09:05 | 1:10:00 | 1:13:02 | 1:05:28 | 1:05:31 | 1:09:45 | 1:05:06 | 1:05:11 | 1:07:29 | 55:16 | 55:04 |
| Bill Hart | 10 Mile | 1:11:47 | Jan 10 | TS Tune-up | 1:12:07 | 1:09:21 | 1:08:59 | 1:08:20 | 1:08:20 | 1:06:29 | 1:09:24 | 1:05:54 | 1:08:15 | 1:02:07 | 1:00:11 |
| Jay Wind | 20000 Meters | 1:43:17 | Jan 17 | JFK | 1:38:40 | 1:32:14 | 1:29:35 | 1:40:52 | | 1:26:13 | 1:35:52 | 1:26:13 | 1:30:54* | 1:24:42 | |
| Eric Melby | Half Marathon | 1:46:43 | Mar 14 | Rock N Roll DC | 1:34:58 | 1:36:39 | 1:32:57 | 1:38:50 | 1:29:03 | 1:28:55 | 1:34:45 | 1:33:25 | 1:36:22* | 1:23:50 | 1:19:32 |
| John Atthowe | 25000 Meters | 4:40:08 | Jun 01 | Conquer the Cove | | | 2:11:31 | 3:46:05 | | 2:23:08 | 2:07:21 | 1:56:02* | | 1:14:39 | |
| Mark Patterson | 20 Mile | 2:31:03 | Feb 22 | TS Distance Series | | 2:54:12 | 3:09:02 | 2:59:13 | 3:08:09 | 3:31:50 | 2:37:09 | 2:31:06* | 2:35:50 | 2:14:29 | |
| Ronnie Wong | Marathon | 3:58:51 | Mar 08 | Lower Potomac | 3:25:21 | 3:30:49 | 3:25:07 | 3:29:34 | 3:24:10 | 3:26:23 | 3:12:06 | 3:08:13 | 3:20:04 | 2:41:57 | 2:42:22 |
| Bob Anderson | 50000 Meters | 6:56:08 | Feb 14 | Holiday Lake | 6:39:13 | 5:57:05 | 6:50:00 | 5:39:57 | 4:50:41 | 5:26:54 | 6:45:14 | | | 3:41:41 | |
| James Miner | 50 Mile | 10:12:15 | Apr 12 | Bull Run | | 8:50:05 | 9:18:45 | 9:24:29 | 9:14:45 | 8:19:13 | 8:44:26 | | | 7:27:10 | |
| Bob Anderson | 100 Mile | 35:11:29 | May 17 | Massanutten | | 34:27:36 | 32:37:32 | 34:22:12 | 30:19:40 | 33:51:31 | | | | 23:03:25 | |
| Name | Distance | Time | Date | Race | 2014 | 2013 | 2012 | 2011 | 2010 | 2009 | 2008 | VA | MD | American | World |
70-74 Men

Name
Distance
Time
Date
Race
2014

2013
2012

2011
2010

2009

2008

VA
MD
American
World
Alby Williams

400 Meters
1:13.1

Feb 01

TJ Meet

1:15.5

1:05.99

1:06.5

1:05.05
1:04.8

67.07

66.9





61.00
61.29
John Brittain
800M
2:49.54


Mar 07

Eastern Regional
3:01

2:45.90

3:00.00

3:49.78

3:12.22

2:33.36

2:52:84





2:27:57
2:20.52
Art Gregory

1500 Meters
6:02.7


Jul 09



FSC Decathlon

6:02.7



6:06.85

5:57

6:07



5:51.92





5:14.97
4:57.65
John Brittain

1 Mile
6:46.1


Jan 11

TJ Meet

6:29.1

5:59

7:11.6

6:28.8

6:06.9

6:00.38

6:32.9





5:42.20
5:23.58
Louis Coppens

3000 Meters
15:32.3

Mar 07



Eastern Regional
14:15.4

13:36.9

13:55

13:00

12:47

12:07.4

13:04





11:46.20
10:42.40
Walter Brown

2 Mile
14:59.7

Aug 09

Going Green
14:59.7

14:10

15:36.3

14:42

14:14

16:52.31

15:18









Jim Noone

5000 Meters
22:51


Feb 08



Run your Heart Out
21:29

22:24

20:08

19:57

21:26

21:52

22:18

21:02
23:35
18:43.61
18:33.38
Jim Bullock

4 Mile
31:27


Feb 08

Bear Run

30:07

29:36

30:49

30:26

29:12

30:48

30:42

31:47*




Ben Dyer

5 Mile
38:38

Feb 07

Toano Icy

36:44

36:55

32:03

36:12

34:43

36:44

37:00

31:51
38:29
30:25


Larry Arata

10000 Meters
53:43

Feb 28

Fort Eustis
43:51

46:28

43:10

44:31

44:57

44:10

45:48

45:07
47:07
38:23.69
38:04.13
Doug Goodhue

12000 Meters
48:36

Nov 16

US National Championships



49:20

1:01:12

1:06:31



58:16

1:01:14

1:00:53*


48:55


James Morse

15000 Meters
1:34:01


Jan 18

Frostbite

1:14:21

1:20:03

1:19:04

1:13:54

1:31:53

1:12:10

1:33:01

1:10:44
1:10:49
1:01:50
58:19

Larry Arata

10 Mile
1:29:56

Jan 24

Knights of Columbus

1:12:34

1:21:37

1:20:02

1:13:32

1:11:31

1:14:07

1:16:29

1:13:55
1:12:46
1:02.41
1:02:19

Robert Lasken

20000 Meters
2:11:45

Jan 17

JFK

1:34:31*

1:48:22

1:42:21

1:42:28

1:31:47

1:38:05

1:35:56



1:37:15
1:20:11


Jim Lindstrom

Half Marathon
1:53:06


Mar 14

Rock N Roll DC
1:38:41

1:45:12

1:47:50

1:42:28

1:49:25

1:40:20

1:44:25
1:38:34


1:27:44


Larry Lovell

25000 Meters
2:48:56

Jun 01

Conquer the Cove





2:17:05

2:13:26



2:05:29

2:02:33
2:16:01*


1:39:59


Chet Coates

20 Mile
3:59:10

Sep 14

Revenge of the Penguin







3:20:46

3:40:24

3:24:16

4:17:19

2:50:37*
2:57:39
2:23:54


Inaloo Parviz

Marathon
5:07:14


Mar 14

Rock N Roll DC
3:49.02

3:39:30

3:34:58

4:02:59

4:00:29

3:46:13

3:49:29
3:26:20
3:54:31
2:59:10
2:54:48.3
Frank Probst

50000 Meters
7:07:37


Feb 14

Holiday Lake






9:12:33

5:03:57

7:30:01

7:53:52




5:36:26


Frank Probst

50 Mile
10:40:57


Nov 22

JFK



10:13:09

11:21:31

10:41:04

9:46:58

9:32:03

9:28:47





7:48:58


Gary Knipling

100 Mile

34:56:16


May 17

Massanutten














34:56:16






Name
Distance
Time
Date
Race
2014

2013
2012

2011
2010

2009

2008
VA
MD
American
World
| | | | | | | | | | | | | | | | |
| --- | --- | --- | --- | --- | --- | --- | --- | --- | --- | --- | --- | --- | --- | --- | --- |
| Name | Distance | Time | Date | Race | 2014 | 2013 | 2012 | 2011 | 2010 | 2009 | 2008 | VA | MD | American | World |
| John MacDonald | 400 Meters | 1:19.9 | Mar 07 | Eastern Regional | | 1:08.89 | 1:23 | 1:37.27 | 1:41.73 | 73.34 | 1:17.83 | | | 67.82 | 66.88 |
| Joe Cordero | 800 Meters | 3:47.56 | Mar 07 | Eastern Regional | | 3:01.44 | 3:32 | 3:57.53 | 3:42.07 | 3:02.93 | 3:16 | | | 2:40.00 | 2:32.47 |
| Robert Gurtler | 1500 Meters | 10:11 | Feb 14 | Tidal Basin | 6:53 | | 7:46 | 8:23.95 | 7:27.45 | 7:09.99 | 7:28 | | | 5:28.50 | 5:22.40 |
| Joe Cordero | 1 Mile | 7:52.84 | Mar 07 | Eastern Regional | 6:57 | 6:48.27 | 7:28 | 7:33 | 7:37.72 | 6:42.90 | 7:12 | | | 5:57.20 | 5:57.20 |
| John Elliott | 3000 Meters | 15:07.6 | Mar 07 | Eastern Regional | 14:56 | 13:44.13 | 14:44.5 | 17:20 | 15:37.56 | 13:24.41 | 27:35 | | | 12:04 | 12:00.94 |
| John Elliott | 2 Mile | 15:37 | Mar 11 | Fat Tuesday | 15:37 | 27:23 | 26:57.7 | 20:39 | 16:03.14 | 16:26 | 16:22 | | | | |
| Stan Neumann | 5000 Meters | 25:45 | Jan 01 | Resolution | 23:14 | 24:17 | 24:59 | 23:43 | 25:12 | 24:51 | 24:53 | 23:17 | 23:34* | 20:28.41 | 19:07.02 |
| John Finney | 4 Mile | 41:50 | Mar 14 | Four Courts | 31:45 | 38:41 | 38:41 | 36:26 | 32:58 | 37:15 | 35:08 | | | | |
| Bill Sollers | 5 Mile | 48:45 | Feb 01 | Country Run | 41:47 | 39:59 | 39:40 | 37:23 | 41:38 | 41:29 | 34:54 | 38:18 | 43:31 | 31:52 | |
| Bill Sollers | 10000 Meters | 58:08 | Mar 01 | St. Patrick's Day | 1:00:52 | 49:35 | 48:47 | 48:17 | 50:58 | 51:00 | 50:34 | 44:20 | 43:18 | 40:12 | |
| Slyvan Karlin | 12000 Meters | 1:12:29 | Nov 17 | National Champs | | 1:12:29 | | | | | | 1:06:00* | | 48:57 | |
| John Borkowski | 15000 Meters | 1:49:20 | Jan 18 | Frostbite | 1:44:20 | 1:37:29 | 1:50:16 | 1:23:36 | 1:30:31 | 1:25:29 | | 1:25:39 | 1:27:32* | 1:01:58 | |
| Chan Robbins | 10 Mile | 1:42:56 | Mar 01 | Reston | 1:25:19 | 1:25:34 | 1:33:03 | 1:28:23 | 1:27:25 | 1:25:33 | 1:25:11 | 1:48:33+ | 1:11:27 | 1:06:27 | |
| Ken Quincy | 20000 Meters | 2:07:39 | Aug 17 | Leesburg | 2:07:39 | 1:54:29 | 2:09:31 | 2:07:17 | 2:04:15 | 2:07:27 | | | 2:49:51 | 1:23:51 | |
| Stan Neumann | Half Marathon | 3:14:09 | Mar 14 | Rock N Roll DC | 1:51:21 | 1:54:01 | 1:48:39 | 1:59:06 | 1:59:39 | 1:55:18 | 2:21:49 | 1:37:51 | | 1:30:19 | |
| Chris Catoe | 25000 Meters | 2:28:31* | Jan 28 | TS Distance Series | | | | 2:44:08 | | | | 3:10:00* | | 1:52:57 | |
| Duane Lougee | 20 Mile | 3:07:59* | Feb 22 | TS Distance Series | | | | 3:51:28 | 4:05:02 | | | 3:12:52* | 2:42:30 | 2:42:38 | |
| James Blaker | Marathon | 5:01:25 | Oct 26 | Marine Corps | 5:01:25 | 3:32:35* | 4:09:26 | 4:29:56 | 4:12:40 | 4:31:41 | 4:17:53 | 3:20:22 | 4:13:02* | 3:04:54 | 3:04:54 |
| Charles Sabatine | 50000 Meters | 7:49:17 | Mar 21 | HAT Run | | | | | | 7:49:17 | | | | 4:50:35 | |
| Anthony Cerminaro | 50 Mile | 11:17:49 | Nov 23 | JFK | | 11:17:49 | 11:40:33 | 10:15:00 | | 13:39:52 | | | | 10:34:06 | |
| Name | Distance | Time | Date | Race | 2014 | 2013 | 2012 | 2011 | 2010 | 2009 | 2008 | VA | MD | American | World |
80-84 Men


| | | | | | | | | | | | | | | | |
| --- | --- | --- | --- | --- | --- | --- | --- | --- | --- | --- | --- | --- | --- | --- | --- |
| Name | Distance | Time | Date | Race | 2014 | 2013 | 2012 | 2011 | 2010 | 2009 | 2008 | VA | MD | American | World |
| George Yannakakis | 400 Meters | 1:56.3 | Mar 07 | Eastern Regional | | 1:35.02 | 1:39 | | | 1:34.45 | 1:41.18 | | | 75.40 | 72.85 |
| George Yannakakis | 800 Meters | 3:55 | Jun 25 | BRRC Track | 3:55 | 3:53.49 | 4:10.5 | | 8:40.27 | 3:22.48 | | | | 2:53.50 | 2:53.50 |
| George Yannakakis | 1500 Meters | 7:32 | Jun 25 | BRRC Track | 7:32 | | 7:08 | | | | | | | 6:04.28 | 5:59.11 |
| George Yannakakis | 1 Mile | 8:37.45 | Mar 07 | Eastern Regional | 8:29.9 | 8:00.94 | 7:46 | 8:16.4 | 10:31.5 | 7:28.49 | 12:48.2 | | | 7:36.55 | 7:24.00 |
| George Yannakakis | 3000 Meters | 15:18 | Jan 02 | Tidal Basin | 15:18 | 15:18 | 15:18 | | | 20:40.4 | 32:43 | | | 13:12.60 | 13:10.46 |
| George Yannakakis | 2 Mile | 17:47 | Jun 25 | BRRC Track | 17:47 | 17:48 | 17:51 | 18:21.6 | | | | | | | |
| George Yannakakis | 5000 Meters | 27:09 | Jan 17 | Freeze Your Buns | 26:40 | 27:35 | 26:07 | 26:25 | 28:31 | 26:47 | 27:13 | 24:40 | 58:01- | 21:46.86 | 21:46.86 |
| Don Simroth | 4 Mile | 40:37 | May 24 | Charlottesville | 40:37 | 39:46 | 36:20 | 40:42 | 48:28 | 49:52 | 52:08 | | 39:30* | | |
| Jack McMahon | 5 Mile | 55:46 | Feb 01 | Country Run | 44:16 | 46:30 | 44:27 | 43:17 | 50:20 | 47:43 | 51:49 | 36:55 | 46:10* | 36:35 | |
| George Yannakakis | 10000 Meters | 55:23 | Apr 27 | Pike's Peek | 55:23 | 56:44 | 57:06 | 52:49 | 56:01 | 59:29 | 56:14 | 1:03:05 | 46:46 | 44:29.40 | 44:29.40 |
| George Yannakakis | 12000 Meters | 1:13:36 | Mar 04 | Burke Lake | | | 1:13:36 | | | | | 1:13:36* | | 1:05:08 | |
| George Yannakakis | 15000 Meters | 1:25:55 | Mar 23 | White Hall | 1:25:55 | | 1:24:31 | | | 1:56:06 | | | 1:07:00 | 1:07:22 | |
| Chris Catoe | 10 Mile | 1:40:58 | Jan 10 | TS Tune-up | 1:30:17 | 1:36:30 | 1:30:54 | 1:58:57 | 1:37:43 | 1:40:58 | 1:33:59 | 2:01:01 | 1:17:10 | 1:13:23 | |
| | 20000 Meters | | | | | | | | | | | 2:04:47* | 1:38:11 | 1:33:56 | |
| Manfred Lindebaum | Half Marathon | 4:27:27 | Mar 14 | Rock N Roll DC | 2:11:10 | | 2:03:14 | 2:24:38 | 2:55:44 | 2:08:05 | 3:02:49 | 1:40:30 | | 1:40:30 | |
| | 25000 Meters | | | | | | | | | | | 2:45:07*# | | 2:05:44 | |
| | 30000 Meters | | | | | | | | | | | | | 3:05:11 | |
| | 20 Mile | | | | | | | | | | | | 3:30:23*# | 3:30:23 | |
| John Corbet | Marathon | 6:01:09 | Oct 26 | Marine Corps | 6:01:09 | 4:55:26 | 5:19:20 | 5:12:44 | 6:40:10 | 5:58:14 | 5:54:40 | 5:09:36 | | 3:51:07* | 3:43:27 |
| | 50000 Meters | | | | | | | | | | | | | 6:59:26 | |
| Leo Lightner | 50 Mile | 12:55:48 | Nov 22 | JFK | | | | | | | 12:55:48 | | | 14:29:16 | |
| Name | Distance | Time | Date | Race | 2014 | 2013 | 2012 | 2011 | 2010 | 2009 | 2008 | VA | MD | American | World |
85 & Older Men


| | | | | | | | | | | | | | | | |
| --- | --- | --- | --- | --- | --- | --- | --- | --- | --- | --- | --- | --- | --- | --- | --- |
| Name | Distance | Time | Date | Race | 2014 | 2013 | 2012 | 2011 | 2010 | 2009 | 2008 | VA | MD | American | World |
| Dixon Hemphill (90) | 400 Meters | 2:42.2 | Jan 11 | TJ Meet | 2:38 | 2:09.45 | 1:52.54 | | | 1:52.54 | 2:19.2 | | | 1:38:05 | 1:30.39 |
| Dixon Hemphill | 800 Meters | 5:52.1 | Feb 01 | TJ Meet | 6:45 | 5:55.07 | 4:51 | | | 4:31.53 | 5:00.8 | | | 3:28.15 | 3:28.15 |
| Dixon Hemphill | 1500 Meters | 15:07.9 | Jan 01 | TJ Meet | | | | 15:07.9 | | | 18:56 | | | 8:16.73 | 7:03.38 |
| Dixon Hemphill (90) | 1 Mile | 12:57 | Jan 25 | TJ Meet | 12:59.2 | 12:25.56 | | 13:13 | | 9:50.68 | 11:45 | | | 8:33:11 | 8:04.70 |
| Dixon Hemphill | 3000 Meters | 23:23.7 | Feb 08 | TJ Meet | 23:14.3 | 15:48.61 | | | 30:04 | 19:50.03 | 23:23 | | 34:10* | 16:32 | 16:32 |
| Walt Washburn | 2 Mile | 27:41 | Nov 20 | HCS Longfellow | | | | 31:54 | | | 27:41 | | | | |
| Ferris Portner Jr. | 5000 Meters | 44:01 | Jan 01 | YMCA Resolution | 38:44 | 36:39 | 33:54 | 29:05 | 27:18 | 35:08 | 39:00 | 29:53 | 53:46* | 25:47.54 | 24:51.7 |
| Bob Atkins | 4 Mile | 1:01:59 | Jan 11 | Staggered Start | 1:01:59 | 1:06:45 | | 1:01:37 | 1:05:45 | 56:45 | 54:47 | | 56:15* | | |
| Dixon Hemphill | 5 Mile | 1:16:58 | Mar 09 | St. Patrick's Day | 1:16:58 | 1:03:36 | 53:10 | 49:12* | 1:23:02 | 1:27:10 | 50:18 | 51:47 | 1:52:45* | 47:05 | |
| Nianxiang Xie | 10000 Meters | 1:18:05 | Apr 27 | Pike's Peek | 1:18.05 | 1:16:45 | 1:18:13 | 1:49:40 | 1:33:03 | 1:26.50 | 1:21:28 | 1:14:10 | | 52:50.8 | 52:50.8 |
| Roy Englert (91) | 12000 Meters | 1:34:30 | Nov 17 | National Champs | | | 1:34:30 | 2:14:42 | | | | | | | |
| | 15000 Meters | | | | | | | | | | | | | 1:32:00 | |
| William Draper | 10 Mile | 3:35:44 | Sep 28 | Lynchburg | 3:35:44 | 2:44:44 | 2:32:14 | | 1:50:06* | | 2:43:39 | | | 1:50:06* | |
| | 20000 Meters | | | | | | | | | | | | | 2:07:49 | |
| Robert Gralley(86) | Half Marathon | 3:25:46 | Oct 13 | Baltimore | 3:25:46 | | 3:25:46 | 3:15:41 | 3:27:32 | 3:11:48 | 3:48:34 | | | 2:26:46 | |
| | 25000 Meters | | | | | | | | | | | | | | |
| | 30000 Meters | | | | | | | | | | | | | 4:39:30 | |
| | 20 Mile | | | | | | | | | | | | | | |
| Domineck Irrera (86) | Marathon | 7:21:45 | Oct 28 | Marine Corps | | | 7:21:45 | 7:02:32 | | | | 8:52:49 | | 5:21:51 | 4:34.55 |
| | 50000 Meters | | | | | | | | | | | | | | |
| | 50 Mile | | | | | | | | | | | | | | |
| Name | Distance | Time | Date | Race | 2014 | 2013 | 2012 | 2011 | 2010 | 2009 | 2008 | VA | MD | American | World |
Women
Open Women

Name
Distance
Time
Date
Race
2014

2013
2012

2011
2010

2009

2008
VA
MD
American
World
Charmaine Roberts

400 Meters

1:02.18

Mar 07

Eastern Regional
53:49

58.43

56.3

54.85

55.6

54.8

54.7





48.83
47.60
Jesse Carlin

800 Meters

2:04.84

Jun 15



PVTC Track

2:04.84

2:18.36

2:16.22

2:12.86

2:07.5

2:01.23

2:07.23




1:56.40
1:53.28
Hallie Kerrigan

1500 Meters
6:58


Jan 19

Tidal Basin

5:19.5

4:58.06

4:55.6

4:42.51

4:33.26

4:32:54

4:57.98





3:57.12
3:50.46
Karina Lubell

1 Mile

5:31.72

Jan 04

PG Sportsfest

4:47.4

4:48

4:50.1

4:40

4:49.4

4:50

4:39





4:16.71
4:11.15
Celine Pisanic

3000 Meters
12:11.1

Jan 18



PG Sportsfest

10:29

9:55.8

9:54.65

10:11.65

9:32.69

9:59.58

9:46.3





8:25.93
8:05.11
Kate Wolpert

2 Mile
13:18

Jan 25

HCS Elkhorn

11:31.3

11:17

12:24.6

11:43.5

11:39

11:34.95

11:30





9:23.38
9:10.47
Susanna Sullivan

5000 Meters
17:01


Jan 01



Reston New Year
16:23

16:16

16:36

16:39

16:32

16:22

16:16

15:46
16:01
14:44.76
14:11:15
Amy Laskowske

4 Mile
22:22

Mar 14

Four Courts
20:55
21:40

22:16

22:43

22:27

21:43

22:24

24:40*




19:28

Kristin Lemos/Sika Henry

5 Mile
31:06


Feb 01/Feb 08

Country Ru/Toano Icy
25:30

24:53.*

25:22

26:17

25:34

26:31

25:48

25:03
26:20*
24:36
24:28
Amy Laskowske

10000 Meters
35:22


Mar 01

St. Patrick's Day

33:18

32:20

32:54

32:07*

32:52

32:37

33:19

32:24
32:07
30:22.22*
29:31.78
Mollie Huddle

12000 Meters
38:08

Nov 16

US National Championships



37:58

51:59

52:34

54:14

45:33

48:50





38:38
38:23
Ann Mazur

15000 Meters
1:00:01


Jan 18

Frostbite

57:43

57:29

57:04

56:20

57:54

57:44

60:18

53:10
51:41
47:15
46:57
Anne McGranahan

10 Mile
1:01:40


Feb 14

Blacksburg
52:05

52:46

54:02

54:02

51:51

53:32

54:21

54:59
56:12
51:47
51:16
Dawn Gillis

20000 Meters
1:26:03

Jan 17

JFK

1:17:27

1:17:18

1:17:33

1:17:40

1:20:49

1:14:33

1:16:06



1:13:07
1:07:07
1:02.57
Hirut Guangal

Half Marathon
1:15:54

Mar 14

Rock N Roll DC
1:13:42

1:12:47

1:11:27*

1:11:49

1:14:17

1:13:43

1:12:54
1:11:46
1:29:14-
1:07:53
1:06:25
Megan Hall

25000 Meters
2:00:15

Jun 01

Conquer the Cove





1:52:13

1:40:10

2:48:08

1:44:24

1:40:02




1:24:43
1:19:53*

Megan Digregorio

20 Mile
2:17:36


Aug 31

Charm City



2:16:32

2:17:54

2:13:09

2:22:40

2:15:29

2:21:04



2:00:39
1:55:29
1:43:24
Martha Nelson

Marathon
2:55:36


Mar 14

Rock N Roll DC

2:39:26

2:37:55

2:38:46

2:29:11

2:32:17

2:32:09*
2:36:02
2:38:14
2:29:11*
2:19:36
2:15:24
Bethany Patterson

50000 Meters
4:22:42

Feb 14

Holiday Lake
3:39:26

4:00:34

4:14:02

3:56:01

3:51:57

4:01:30

4:48:01




3:13:51
3:08:39
Sarah Bard

50 Mile
6:37:04


Nov 22

JFK



6:30:05

6:11:59

6:31:22

7:23:06

6:29:21

7:15:16





5:40:18
5:40:18
Megan Stegemiller

100 Mile
20:56:22


Jun 07

Old Dominion


25:30:18

22:01:54

22:03:22

19:54:54

24:59:55
21:54:09





14:25:45
Name
Distance
Time
Date
Race
2014

2013
2012

2011
2010

2009

2008
VA
MD
American
World
19 & Younger Women

| | | | | | | | | | | | | | | | |
| --- | --- | --- | --- | --- | --- | --- | --- | --- | --- | --- | --- | --- | --- | --- | --- |
| Name | Distance | Time | Date | Race | 2014 | 2013 | 2012 | 2011 | 2010 | 2009 | 2008 | VA | MD | American | World |
| Paige Poulos | 400 Meters | 1:48.2 | Jan 12 | Jay TJ Meet | 53.49 | 58.43 | 57.0 | 54.85 | 55.6 | 54.8 | 56.22 | | | 50.74 | 49.42 |
| Mallory Monoh | 800 Meters | 2:37.8 | Jun 10 | CVAC Track | 2:37.8 | 2:24.1 | 2:21.74 | 2:14.47 | 2:20.5 | 2:14.4 | 2:18.44 | | | 2:00.07 | 1:54:01 |
| Hallie Kerrigan | 1500 Meters | 6:58 | Jan 19 | Tidal Basin | 5:30.9 | 5:30 | 6:41 | 4:57.51 | 5:18 | 4:42.67 | 4:57.98 | | | 4:09.10 | 3:51.34 |
| Isabelle Oliver | 1 Mile | 5:52.3 | Jan 11 | TJ Meet | 4:57 | 5:32.7 | 4:50.1 | 4:48 | 4:49.4 | 5:10.32 | 4:39 | | | 4:35.24 | 4:17.57 |
| Kate Bennett | 3000 Meters | 12:11.1 | Jan 18 | PG Sportsfest | 10:29 | 11:44.1 | 10:21.88 | 10:21.71 | 11:45.6 | 10:17:47 | 10:44.42 | | | 8:57.27 | 8:28.83 |
| Celine Pisanic | 2 Mile | 13:18 | Jan 25 | HCS Elkhorn | 12:14 | 12:48 | 13:01.8 | 12:23 | 12:07 | 11:34.95 | 11:30 | | | | 9:10.47* |
| Jessica Armstrong | 5000 Meters | 19:24 | Feb 22 | Sentara Colonial | 18:18 | 16:44 | 18:00 | 17:39.7 | 17:34 | 18:48 | 18:04 | 16:36 | 18:05 | 15:50.18 | 14:30.88 |
| Hannah Koepfinger | 4 Mile | 28:41 | Feb 08 | Sweetheart 4 ever | 23:12 | 24:52 | 25:59 | 25:42 | 25:22 | 23:49 | 24:38 | | | | |
| Camryn Ubert | 5 Mile | 34:15 | Jan 17 | Prediction | 30:07 | 32:25 | 29:39 | 30:26 | 32:08 | 29:46 | 29:37 | 29:48 | 30:05 | 26:12 | |
| Claire McClintick | 10000 Meters | 45:37 | Feb 22 | Love Rox | 38:39 | 32:22 | 37:54 | 40:05 | 38:31 | 40:32 | 36:14 | 38:23 | 32:22* | 32:33 | 30:39.41 |
| Keelin Hollowood | 12000 Meters | 48:35 | Nov 16 | US National Championships | | 1:00:52 | | | | 54:34 | 53:21 | | | 44:40 | |
| Rachel Tischler | 15000 Meters | 1:04:57 | Jan 18 | Frostbite | 1:04:45 | 1:06:37 | 1:09:16 | 1:05:51 | 1:04:52 | 1:07:14 | 1:04:20 | 56:40 | 49:53 | | |
| Paige MaCauley | 10 Mile | 1:07:36 | Feb 14 | Blacksburg | 1:01:09 | 57:40 | 1:07:37 | 56:38 | 1:07:16 | 54:26 | 1:08:04 | 1:00:49 | 56:42 | 56:02 | |
| Katie Necochea | 20000 Meters | 1:28:28 | Aug 19 | Leesburg | 1:28:28 | | 1:28:28 | 1:26:55 | 1:49:41 | 1:30:47 | 1:28:37 | | 1:17:02 | 1:13:41 | |
| Marie Jendrysik | Half Marathon | 1:35:07 | Feb 22 | Love Rox | 1:28:21 | 1:28:59 | 1:23:39 | 1:12:44 | 1:28:54 | 1:13:43 | 1:28:45 | 1:17:25 | | 1:14:06 | 1:11:41 |
| Sydney Sumner | 25000 Meters | 2:19:32 | Jun 01 | Conquer the Cove | | | 2:46:48 | 2:27:35 | 4:08:36 | 2:00:15 | 2:00:30 | | | 1:33:08 | |
| Sarah Howard | 20 Mile | 2:57:18 | Aug 31 | Charm City | | 2:41:28 | 2:33:46 | 2:43:53 | 2:43:37 | 3:04:45 | 3:31:32 | | | | |
| Ivy Aleshire | Marathon | 3:39:43 | Mar 14 | Rock N Roll DC | 3:17:59 | 3:23:37 | 3:17:37 | 3:19:41 | 3:16:36 | 3:21:59 | 3:17:01 | 3:09:00+ | 3:07:50 | 2:33:52 | 2:23:37 |
| Hannah Bright | 50000 Meters | 4:48:40 | Feb 14 | Holiday Lake | | 5:19:13 | | 7:47:22 | 6:16:50 | 5:25:34 | 7:10:52 | | | 4:01:19 | |
| Lauren Dorsky | 50 Mile | 8:18:17 | Nov 22 | JFK | | 8:34:18 | | 9:42:03 | 10:26:18 | | 10:48:39 | | | 10:51:00 | |
| Name | Distance | Time | Date | Race | 2014 | 2013 | 2012 | 2011 | 2010 | 2009 | 2008 | VA | MD | American | World |
35-39 Women


| | | | | | | | | | | | | | | | |
| --- | --- | --- | --- | --- | --- | --- | --- | --- | --- | --- | --- | --- | --- | --- | --- |
| Name | Distance | Time | Date | Race | 2014 | 2013 | 2012 | 2011 | 2010 | 2009 | 2008 | VA | MD | American | World |
| Lisa Edwards | 400 Meters | 1:04:15 | Mar 07 | Eastern Regional | 1:42.3 | 1:02.04 | 1:07.57 | 1:12:55 | 59.84 | 58.64 | | | | 56.80 | 50.56 |
| Cheyenne Craig | 800 Meters | 3:31.9 | Jun 11 | Lynchburg Track | | 3:31.9 | 2:56 | 3:08.9 | 2:14.04 | 2:20.14 | 2:16.8 | | | 2:02.83 | 1:59.25 |
| Crystal Thompson | 1500 Meters | 5:57.5 | Jul 09 | FSC Decathlon | 5:57.5 | 5:48 | 5:46 | 6:51 | 6:06 | 6:26 | | | | 4:07.08 | 3:57.73 |
| Laura Powell | 1 Mile | 6:20.1 | Jan 11 | TJ Meet | 5:04 | 5:07 | 5:04.5 | 5:04 | 4:55.09 | 5:01.71 | 4:48.4 | | | 4:26.10 | 4:17.33 |
| Liz Hollis | 3000 Meters | 12:13.3 | Jan 26 | TJ Meet | 12:13.3 | 10:42.82 | 11:40 | | 12:07 | 10:39.05 | 11:04.5 | | | 8:51.84 | 8:27.83 |
| Sara Benjamin | 2 Mile | 17:00 | Jan 25 | HCS Elkhorn | 11:40 | 11:23 | 12:24.6 | 15:20.2 | 14:02 | 12:51.22 | 12:41 | | | | |
| Emily Potter | 5000 Meters | 18:12 | Mar 01 | St. Patrick's Day | 17:03 | 18:14 | 19:00 | 17:02 | 17:49 | 16:40 | 18:12 | 16:25 | 17:40 | 15:11.28 | 14:42.64 |
| Emily Potter | 4 Mile | 24:25 | Mar 14 | Four Courts | 21:35 | 22:27 | 24:04 | 23:23 | 24:46 | 22:59 | 24:34 | | | | |
| Courtney Perna | 5 Mile | 33:23 | Feb 01 | Country Run | 29:42 | 28:43 | 27:14 | 28:47 | 31:24 | 28:01 | 26:39* | 26:45 | 28:45 | 26:10 | |
| Emily Potter | 10000 Meters | 38:49 | Mar 01 | St. Patrick's Day | 37:55 | 35:12 | 33:45 | 34:49 | 35:57 | 34:56 | 35:57 | 35:35 | 35:10 | 31:28.92 | 31:13 |
| Lynne Knothe | 12000 Meters | 49:09 | Nov 16 | US National Championships | | 41:23 | 56:34 | 52:34 | 55:59 | 45:33 | 57:00 | 54:48* | | 38:38 | |
| Rachel Northup | 15000 Meters | 1:01:24 | Jan 18 | Frostbite | 57:43 | 529:37 | 1:00:12 | 56:20 | 59:08 | 57:44 | 60:18 | 53:35 | 52:56 | 48:43 | |
| Anne McGranahan | 10 Mile | 1:01:40 | Feb 14 | Blacksburg | 52:14 | 54:54 | 1:00:01 | 59:40 | 1:02:39 | 54:27 | 54:52 | 54:59 | 59:30 | 54:36 | |
| Carol Cohen | 20000 Meters | 1:36:09 | Jan 17 | JFK | 1:21:36 | 1:19:51 | 1:31:07 | 1:17:40 | 1:23:23 | 1:17:34 | 1:20:50 | | 1:13:07 | 1:07:53 | |
| Maria Elena Calle | Half Marathon | 1:21:01 | Feb 22 | Love Rox | 1:19:48 | 1:22:14 | 1:20:53 | 1:17:41 | 1:15:39 | 1:15:17 | 1:15:17 | 1:11:46 | 1:53:57 | 1:11:01 | |
| Sarah Glenn | 25000 Meters | 2:04:00 | Jun 01 | Conquer the Cove | | | 2:02:34 | 2:08:17 | 3:05:47 | 1:46:03 | 1:44:09 | | | 1:26:54 | |
| Beth Connelly | 20 Mile | 2:33:03 | Aug 31 | Charm City | | 2:29:04 | 2:37:34 | 2:27:10 | 2:35:02 | 2:31:46 | 2:35:58 | | 2:19:31* | | |
| Rebecca Bader | Marathon | 2:55:53 | Mar 14 | Rock N Roll DC | 2:52:20 | 2:55:03 | 2:39:14 | 2:29:57* | 2:56:43 | 2:40:32* | 2:36:02 | 2:38:14 | 2:29.57* | 2:27:35 | 2:24:35 |
| Bethany Patterson | 50000 Meters | 4:22:42 | Feb 14 | Holiday Lake | 5:12:30 | 4:50:33 | 4:46:00 | 4:35:05 | 4:08:24 | 4:01:30 | 5:37:15 | | | | |
| Amy Gordon | 50 Mile | 7:34:57 | Nov 22 | JFK | | 7:30:02 | 6:47:04 | | 7:23:06 | 7:52:01 | 8:06:24 | | | 7:08:50 | |
| Valerie Wrenholt | 100 Mile | 21:15:28 | Jun 07 | Old Dominion | | 27:13:20 | 22:01:54 | 22:30:43 | 25:39:55 | 24:59:55 | 33:42:40 | | | | |
| Name | Distance | Time | Date | Race | 2014 | 2013 | 2012 | 2011 | 2010 | 2009 | 2008 | VA | MD | American | World |
40-44 Women


| | | | | | | | | | | | | | | | |
| --- | --- | --- | --- | --- | --- | --- | --- | --- | --- | --- | --- | --- | --- | --- | --- |
| Name | Distance | Time | Date | Race | 2014 | 2013 | 2012 | 2011 | 2010 | 2009 | 2008 | VA | MD | American | World |
| Kesha Cade | 400 Meters | 1:12.33 | Mar 07 | Eastern Regional | | 1:00.28 | 64.3 | 58.56 | 58.8 | 58.9 | 58.65 | | | 57.49 | 53.68 |
| Jacqueline Gruendel | 800 Meters | 2:34.59 | Mar 07 | Eastern Regional | 2:55 | 2:18.87 | 2:41.71 | 2:38.27 | 2:07.5 | 2:11.93 | 2:11.58 | | | 2:05.75* | 1:59.25 |
| Julie Bruns | 1500 Meters | 7:22 | May 21 | Tidal Basin | 7:22 | | 5:46.8 | 6:08 | 5:57 | 5:27.14 | 5:16 | | | 4:26.18* | 3:59.78 |
| Jacqueline Gruendel | 1 Mile | 5:33.52 | Mar 07 | Eastern Regional | 5:11.8 | 5:11 | 5:07.1 | 5:37.1 | 4:57.5 | 4:54.4 | 4:54.5 | | | 4:46:29* | 4:23.78 |
| Justine Kerrigan | 3000 Meters | 20:44 | Jan 19 | Tidal Basin | 15:26 | 10:43.26 | 11:19.4 | | | 10:36.36 | 14:13 | | | 9:59.00 | 9:11.20 |
| Lisa Pisanic | 2 Mile | 16:09 | Jan 25 | HCS Elkhorn | 12:45.8 | 14:03 | 12:57.7 | 11:58.49 | 14:06 | 11:59.38 | 11:41 | | | | |
| Perry Shoemaker | 5000 Meters | 18:17 | Mar 14 | Lucky Leprechaun | 17:49 | 16:38 | 17:37 | 17:38 | 16:54 | 17:40 | 17:43 | 18:22 | 18:04 | 16:02.27 | 15:20.59 |
| Vicky Jasparro | 4 Mile | 27:25 | Feb 08 | Sweetheart 4 ever | 25:06 | 24:16 | 23:05 | 24:13 | 25:43 | 23:56 | 26:26 | | | | |
| Trish Stone | 5 Mile | 31:52 | Feb 01 | Country Run | 30:36 | 27:50 | 27:10 | 27:56 | 27:39 | 28:57 | 29:21 | 26:14 | 29:51 | 26:19 | |
| Perry Shoemaker | 10000 Meters | 36:37 | Feb 14 | For the Love of It | 38:23 | 35:41 | 34:26 | 37:02 | 36:34 | 36:49 | 37:07 | 35:10 | 36:30* | 33:22 | 31:13:18 |
| Jen Rhines | 12000 Meters | 40:31 | Nov 16 | US National Championships | | 44:17 | 1:06:08 | 55:31 | 1:00:44 | 50:24 | 57:40 | | | 42:17 | |
| Erin Williams | 15000 Meters | 1:15:48 | Jan 18 | Frostbite | 1:02:03 | 1:01:16 | 1:05:11 | 1:00:25 | 1:07:23 | 1:00:06 | 1:00:43 | 55:55 | 55:03 | 52:22 | 49:35 |
| Jennifer Maranzano | 10 Mile | 1:04:19 | Mar 01 | Reston | 55:54* | 58:47 | 1:00:22 | 1:00:04 | 58:52 | 1:00:18 | 57:17 | 1:02:27 | 1:00:31 | 56:05 | 53:48 |
| Cecile Amos | 20000 Meters | 1:45:38 | Jan 17 | JFK | 1:26:27 | 1:27:13 | 1:17:33 | 1:33:28 | 1:37:39 | 1:21:16 | 1:28:36 | | 1:31:18- | 1:12:39 | |
| Jennifer Maranzano | Half Marathon | 1:24:46 | Mar 14 | Rock N Roll DC | 1:18:34 | 1:17:23 | 1:15:35* | 1:14:05 | 1:15:23 | 1:19:53 | 1:12:54 | 1:17:23 | 1:46:05- | 1:13:57 | 1:09:05 |
| Tabitha Walker | 25000 Meters | 2:29:54 | Jun 01 | Conquer the Cove | | | 1:52:13 | 1:51:25 | 3:18:53 | 2:03:08 | 2:03:04 | | | 1:29:47 | |
| Marci Benda | 20 Mile | 2:38:54 | Aug 31 | Charm City | | 2:38:33 | 2:33:32 | 2:19:29 | 2:30:10 | 2:15:29 | 2:29:51 | | 2:30:49 | 1:59:17 | |
| Julia Taylor | Marathon | 3:30:46 | Mar 14 | Rock N Roll DC | 2:43:01 | 3:02:03 | 2:52:25 | 2:56:06 | 2:49:50 | 2:47:23* | 2:48:48 | 2:52:30 | 3:02:09 | 2:35:08 | 2:26.51 |
| Jennifer Fleming | 50000 Meters | 5:37:22 | Feb 14 | Holiday Lake | 4:45:18 | 4:35:13 | 5:02:10 | 4:23:04 | 4:26:06 | 4:15:36 | 4:48:01 | | | 3:44:32 | |
| Elisa Edgar | 50 Mile | 8:02:28 | Nov 22 | JFK | | 8:18:52 | 7:22:44 | | 8:13:04 | 7:02:52 | 7:31:17 | | | 6:19:05 | |
| Angela Shartel | 100 Mile | 21:24:30 | May 17 | Massanutten | | | 33:58:41 | 23:11:23 | 23:14:30 | 27:25:00 | 23:27:32 | | | 15:05:52 | |
| Name | Distance | Time | Date | Race | 2014 | 2013 | 2012 | 2011 | 2010 | 2009 | 2008 | VA | MD | American | World |
Go Top
45-49 Women


| | | | | | | | | | | | | | | | |
| --- | --- | --- | --- | --- | --- | --- | --- | --- | --- | --- | --- | --- | --- | --- | --- |
| Name | Distance | Time | Date | Race | 2014 | 2013 | 2012 | 2011 | 2010 | 2009 | 2008 | VA | MD | American | World |
| Charmaine Roberts | 400 Meters | 1:02.18 | Mar 07 | Eastern Regional | 1:00.95 | 1:00.14 | 59.0 | 1:01:32 | 62.7 | 62.09 | 67.7 | | | 56.82 | 56.15 |
| Alisa Harvey | 800 Meters | 2:23.95 | Mar 07 | Eastern Regional | 2:50 | 2:18.36 | 2:49.3 | 2:14.38 | 2:21.89 | 2:24.27 | 2:33.1 | | | 2:13.67 | 2:02.82 |
| Cindy Cohen | 1500 Meters | 7:16 | Jan 19 | Tidal Basin | 5:44 | 5:32 | 5:41.3 | 6:29 | 6:44 | | | | | 4:43.21 | 4:05.44 |
| Lisa McNichols | 1 Mile | 5:33.8 | Mar 07 | Eastern Regional | 5:10.7 | 5:13 | 5:00.9 | 5:04.02 | 5:06.82 | 5:20.75 | 5:25.7 | | | 5:07.76 | 4:48.42 |
| Cindy Cohen | 3000 Meters | 13:42.6 | Jan 11 | TJ Meet | 12:35.5 | 10:53 | 12:26 | 14:36 | 11:00 | 10:38.79 | 10:48.09 | | | 9:57.27 | 9:17.27 |
| Cindy Cohen | 2 Mile | 16:32 | Jan 04 | HCS Thunder Hill | 12:51 | 11:17 | 14:10.9 | 15:33 | 14:12 | 14:29.63 | 12:11.22 | | | | |
| Kellie Redmond | 5000 Meters | 20:06 | Mar 01 | St. Patrick's Day | 19:25 | 18:45 | 18:46 | 17:59 | 18:10 | 18:09 | 18:34 | 18:41 | 19:28 | 17:14 | 15:55.71 |
| Linda Bruhn-Cherry | 4 Mile | 28:40 | Feb 08 | Sweetheart 4 ever | 27:27 | 26:29 | 25:56 | 25:42 | 25:22 | 25:01 | 24:31 | | | | |
| Debbie McLaughlin | 5 Mile | 33:37 | Feb 07 | Toano Icy | 29:47 | 33:34 | 30:10 | 28:30 | 30:43 | 30:10 | 30:10 | 25:55 | 31:45 | 28:03 | 25:56 |
| Cristina Burbach | 10000 Meters | 40:26 | Mar 01 | St. Patrick's Day | 39:27 | 39:27 | 37:35 | 37:45 | 39:37 | 37:49 | 39:09 | 39:02 | 38:28* | 34:40 | 32:34.06 |
| Alisa Harvey | 12000 Meters | 47:47 | Nov 16 | US National Championships | | 47:43 | 51:59 | 1:09:00 | 1:03:58 | 50:41 | 51:55 | | | 43:38 | |
| Debbie Hetherington | 15000 Meters | 1:05:02 | Jan 18 | Frostbite | 1:04:51 | 1:07:54 | 1:05:48 | 1:07:12 | 1:04:11 | 1:04:30 | 1:03:02 | 57:52 | 1:00:21 | 54:58 | 49:48 |
| Monique Rico | 10 Mile | 1:11:40 | Mar 01 | Reston | 1:05:40 | 1:05:39 | 58:14 | 1:02:00 | 1:02:03 | 1:01:57 | 1:01:25 | 1:06:08 | 1:04:14 | 59:15 | 55:33 |
| Christine Westcott | 20000 Meters | 1:36:51 | Jan 17 | JFK | 1:33:36 | 1:30:58 | 1:24:02 | 1:31:18 | 1:23:36 | 1:26:31 | 1:25:17 | | 1:25:51 | 1:14:13 | |
| Lee Firestone | Half Marathon | 1:25:53 | Mar 14 | Rock N Roll DC | 1:22:52 | 1:30:50 | 1:29:37 | 1:17:40* | 1:16:54 | 1:28:35 | 1:26:02 | 1:16:07+ | | 1:18:12 | 1:11:18 |
| Tricia Lillaheart | 25000 Meters | 2:47:13 | Jun 01 | Conquer the Cove | | | 2:01:08 | 2:06:06 | 3:45:18 | 2:01:02 | 2:15:31 | | | 1:33:19 | |
| Juda McGannon | 20 Mile | 2:42:49 | Aug 31 | Charm City | | 2:54:49 | 2:57:21 | 2:54:50 | 2:25:39 | 2:42:43 | 2:43:21 | | 2:53:07 | 2:10:13 | |
| Lydia Pelliccia | Marathon | 3:28:02 | Mar 14 | Rock N Roll DC | 2:59:50 | 3:02:09 | 2:59:02 | 3:00:02 | 2:41:06* | 2:41:22 | 3:11:51 | 3:06:19 | 3:31:46 | 2:42:28 | 2:28:59.5 |
| Michelle McClellan | 50000 Meters | 4:57:40 | Feb 14 | Holiday Lake | 5:27:18 | 4:00:34 | 5:26:28 | 3:56:01 | 5:08:06 | 4:56:19 | 5:33:41 | | | 3:32:34 | |
| Kristen Roe | 50 Mile | 7:58:48 | Nov 22 | JFK | | 8:06:45 | 7:14:31 | | 7:08:53 | 6:56:05 | 7:15:16 | | | 6:09:09 | |
| Elaine Stypula | 100 Mile | 26:40:47 | Jun 07 | Old Dominion | | 30:37:27 | 28:50:56 | 22:03:22 | 24:54:45 | 26:47:16 | 25:19:49 | | | 15:12:54 | |
| Name | Distance | Time | Date | Race | 2014 | 2013 | 2012 | 2011 | 2010 | 2009 | 2008 | VA | MD | American | World |
50-54 Women

| | | | | | | | | | | | | | | | |
| --- | --- | --- | --- | --- | --- | --- | --- | --- | --- | --- | --- | --- | --- | --- | --- |
| Name | Distance | Time | Date | Race | 2014 | 2013 | 2012 | 2011 | 2010 | 2009 | 2008 | VA | MD | American | World |
| Marguerite Matthews | 400 Meters | 1:19.16 | Mar 07 | Eastern Regional | 1:05.78 | 1:06.89 | 1:39 | 1:19.79 | 68.07 | 69.76 | 73.2 | | | 61.89 | 58.51 |
| Julie Hayden | 800 Meters | 2:36.53 | Mar 07 | Eastern Regional | 2:38.78 | 2:26.09 | 2:39.3 | 2:38.1 | 2:34.09 | 2:40.22 | 2:44.85 | | | 2:25.29 | 2:21.05 |
| Jeanette Lussi | 1500 Meters | 6:12.6 | Jun 25 | BRRC Track | 6:12.5 | 6:25 | 6:00 | 6:12 | 5:48.28 | 8:00.9 | 8:47.32 | | | 4:57.44 | 4:40.92 |
| Beth Ann Stasiowsky | 1 Mile | 10:00.8 | Jan 01 | Winfield | 5:36.07 | 5:30.06 | 5:53 | 5:53.8 | 5:46.3 | 5:47.56 | 5:58.1 | | | 5:15.55 | 5:02.80 |
| Kate Frick | 3000 Meters | 14:23 | Aug 20 | FSC Decathlon | 14:23 | 11:46.36 | 11:44 | 16:17 | 12:19.8 | 10:22.68 | 12:18.6 | | | 10:10.01* | 10:08.83 |
| Sharlene Deskins | 2 Mile | 19:02 | Jan 04 | Thunder Hill | 12:05 | 14:50 | 12:42 | 12:09.8 | 12:44 | 13:43 | 12:59 | | | | |
| Cindy Conant | 5000 Meters | 19:28 | Mar 01 | St. Patrick's Day | 19:03 | 19:31 | 18:46 | 19:36 | 19:38 | 18:46 | 18:49 | 19:19 | 19:18 | 17:25.60 | 17:17.02 |
| Carol David | 4 Mile | 29:33 | Feb 08 | Sweetheart 4 ever | 25:08 | 25:39 | 25:37 | 25:56 | 26:38 | 27:20 | 26:09 | | | | |
| Cindy Conant | 5 Mile | 32:34 | Feb 01 | Country Run | 31:06 | 31:09 | 30:03 | 31:34 | 33:33 | 31:20 | 32:19 | 30:07 | 33:48 | 28:55 | 26:41* |
| Cindy Conant | 10000 Meters | 40:41 | Mar 01 | St. Patrick's Day | 38:08.* | 38:45 | 39:47 | 40:08 | 39:49* | 39:55 | 39:37 | 40:48+ | 38:45* | 37:28.67 | 35:18 |
| Laurel Park | 12000 Meters | 47:15 | Nov 16 | US National Championships | | 51:55 | 52:21 | 1:22:29 | 1:11:54 | 60:59 | 62:38 | 1:03:29* | | 44:56 | |
| Lorraine Moore | 15000 Meters | 1:14:36 | Jan 18 | Frostbite | 1:05:23 | 1:13:09 | 1:03:11 | 1:02:28 | 1:04:19 | 1:06:32 | 1:06:09 | 1:01:30 | 1:14:22 | 54:34 | 54:33 |
| Joann Simms | 10 Mile | 1:10:38 | Nar 1 | Reston | 1:02:48 | 1:01:48 | 1:02:30 | 1:05:22 | 1:00:52* | 1:09:01 | 1:01:52 | 1:01:52* | 1:08:21 | 1:00:52* | 1:00:24 |
| Mery-Angela Katson | 20000 Meters | 1:45:30 | Jan 17 | JFK | 1:31:10 | 1:32:44 | 1:24:54 | 1:25:53 | 1:26:47 | 1:29:19 | 1:26:28 | | 1:28:43 | 1:22:36 | |
| Kristy Kim | Half Marathon | 1:35:16 | Mar 14 | Rock N Roll DC | 1:26:38 | 1:27:41 | 1:21:41 | 1:27:27* | 1:23:14 | 1:27:35 | 1:27:15 | 1:28:16 | | 1:19:40 | 1:17:52 |
| Linda Vick | 25000 Meters | 2:42:46 | Jun 01 | Conquer the Cove | | | 2:19:32 | 2:26:55 | 4:34:38 | 2:16:57 | 2:17:50 | 2:34:34* | | 1:38:36 | |
| Maria Jacob | 20 Mile | 2:57:42 | Feb 22 | TS Distance Series | | 2:35:44 | 2:31:26 | 3:05:25 | 2:34:57 | 2:45:53 | 2:36:32 | 3:24:12 | 2:49:44 | 2:19:59 | |
| Connie Gardner | Marathon | 3:29:53 | Mar 14 | Rock N Roll DC | 3:20:54 | 3:11:38 | 3:09:13 | 3:14:35 | 3:18:16 | 3:02:17* | 3:02:18 | 3:15:39 | 3:44:14 | 2:49:08 | 2:31:05 |
| Sophie Speidel | 50000 Meters | 5:07:37 | Feb 14 | Holiday Lake | 5:30:12 | 4:57:31 | 5:10:28 | 4:51:02 | 5:05:58 | 5:06:55 | 5:46:33 | | | 4:16:32 | |
| Yukiko Nishide | 50 Mile | 9:36:06 | Apr 12 | Bull Run | | 8:29:42 | 9:26:35 | | 8:21:20 | 8:37:24 | 9:15:17 | | | 7:47:27 | |
| Lori Johnson | 100 Mile | 29:30:31 | May 17 | Massanutten | | 26:51:35 | 27:27:23 | 26:05:36 | 30:14:52 | | 27:54:51 | | | 16:57:58 | |
| Name | Distance | Time | Date | Race | 2014 | 2013 | 2012 | 2011 | 2010 | 2009 | 2008 | VA | MD | American | World |
55-59 Women

Name
Distance
Time
Date
Race
2014

2013
2012

2011
2010

2009

2008
VA
MD
American
World
Vicki Fox

400 Meters
1:12.01

Mar 07

Eastern Regional
1:37.9

1:13.4

1:23.44

1:12:42

1:14.52

1:12.43

1:21.8





65.29
62.40
Mary Lowe Mayhugh
800 Meters
3:16.8


Jan 25

TJ Meet
3:31

2:42.11

2:51

2:48.21

2:48.27

2:40.02

2:39





2:30.53
2:16.05
Harriett Langlois

1500 Meters
6:50.7


Jul 09



FSC Decathlon

6:50.7

6:52

5:43.9

5:47.8
5:40.49









5:12.62
4:57.40
Mary Lowe Mayhugh

1 Mile
6:17.9


Mar 07

Eastern Regional
6:25

5:52

6:13

6:05.37

6:03.8

5:44:24

6:14.7





5:46.80
5:32.70
Mary Lowe Mayhugh
3000 Meters
12:20.2

Mar 07

Eastern Regional
15:07

11:50.87

11:48

11:57.77

12:13.4

10:59.36







10:55.5
10:38.80
Karen Harvey

2 Mile
20:05

Mar 15

HCS Longfellow
16:00

14:20

16:21.1

13:19

13:20

15:30

13:10.17









Dee Dee Loughran

5000 Meters
20:05


Mar 14



Lucky Leprechaun
19:25*

19:54

19:21

20:58

20:37

21:10

20:47

20:01
21:29
18:32
17:58.05
Mary Lowe Mayhugh

4 Mile
29:26

Feb 08

Sweetheart 4 ever
25:49

27:52

28:25

28:48

28:28

27:57

28:07









Mercedes Castillo-D'Amico

5 Mile
35:38


Jan 17

Chili Bob

35:12

32:10

31:23

32:22*

33:58

32:32

34:03

32:50
37:23
30:10


Dee Dee Loughran

10000 Meters
42:05*


Feb 14

For the Love of It
41:11

40:24*

41:39

44:15

43:43

43:50

42:00

42:26
41:18
38:55
37:22.40
Joan Samuelson

12000 Meters
46:27

Nov 16

US National Championships



54:10

58:46

1:15:55

56:45

56:43

53:28

1:11:47*


49:43


Terri Huddleston

15000 Meters
1:17:38

Jan 18

Frostbite

1:23:08

1:14:30

1:08:04

1:09:29

1:07:05

1:18:02

1:08:42

1:04:00
1:08:02
1:00:38


Dee Dee Loughran
10 Mile
1:07:01

Mar 01



Reston
1:04:20

1:07:36

1:08:27

1:10:10

1:12:28

1:10:23

1:14:50

1:10:32
1:02:39
1:02:39

Sharon Griffing

20000 Meters
1:45:36

Jan 17

JFK

1:24:41

1:22:38*

1:30:18

1:48:03

1:56:52

1:40:41

1:30:46

1:22:38*

1:37:59
1:18:44


Danna Middleton

Half Marathon
1:30:17


Feb22

Love Rox
1:30:58*

1:32:16

1:38:25

1:40:14

1:38:07

1:38:09

1:36:27
1:33:38


1:23:09
1:23:49

Mary Riser

25000 Meters
4:32:35

Jun 01

Conquer the Cove





2:31:14

2:32:11

3:46:10

2:07:35

2:07:55




1:41:01



Catherine Baker

20 Mile
2:48:57


Sep 14

Revenge of the Penguin



3:16:34

2:59:49

3:14:35

2:49:48

2:50:04

2:46:52





2:26:36


Linda Desmueles

Marathon
3:13:58


Mar 14

Rock N Roll DC
3:44:02

3:10:11

3:32:27

3:34:13

3:38:33

3:37:27
3:36:20
3:28:08
5:01:54
2:52:14
2:52:14
Rebekkah Trittipoe

50000 Meters
5:43:56


Feb14

Holiday Lake
6:37:24

6:18:35

6:30:47

5:16:43

6:25:49

4:30:31

7:16:54




3:56:55


Dawn Hamel

50 Mile
8:53:57


Apr 12

Bull Run



8:45:58

8:56:08



9:54:23

10:41:56

11:28:40





7:44:48


Elise Harrington

100 Mile
33:53:00


May 12

Massanutten




33:53:00



31:33:01

28:00:24

29:05:03





18:53:03


Name
Distance
Time
Date
Race
2014

2013
2012

2011
2010

2009

2008
VA
MD
American
World
60-64 Women

| | | | | | | | | | | | | | | | |
| --- | --- | --- | --- | --- | --- | --- | --- | --- | --- | --- | --- | --- | --- | --- | --- |
| Name | Distance | Time | Date | Race | 2014 | 2013 | 2012 | 2011 | 2010 | 2009 | 2008 | VA | MD | American | World |
| Hannah Phillips | 400 Meters | 1:26.6 | Mar 07 | Eastern Regional | 1:33.6 | 1:20.91 | 1:29 | 1:26.48 | 1:29.95 | 1:13.62 | 1:47.02 | | | 66.69 | 66.69 |
| Betty Blank | 800 Meters | 3:21.9 | Jan 25 | TJ Meet | 3:16 | 2:41.61 | 3:18 | 3:16.2 | 3:15.16 | 3:17.48 | 4:07.86 | | | 2:40:58 | 2:36.94 |
| Linda Wells | 1500 Meters | 6:39 | May 12 | VA Senior Games | | | 6:39 | | 8:04 | 6:40.9 | 7:54.44 | | | 5:32.80 | 5:18.14 |
| Betty Blank | 1 Mile | 7:01 | Feb 08 | TJ Meet | 6:55.6 | 6:06.62 | 7:04.6 | 6:09 | 7:01.6 | 6:52 | 7:29.1 | | | 5:58.69 | 5:48.94 |
| Betty Blank | 3000 Meters | 14:08.9 | Feb 08 | TJ Meet | 13:46.6 | 11:58.89 | | 34:34 | | | 15:10 | | | 11:51.22 | 11:41.91 |
| Candace Lawhorne | 2 Mile | 23:17 | Feb 08 | Resolution | 15:16 | 19:06 | 16:03.5 | 18:47 | 17:29 | 15:48.71 | 15:09 | | | | |
| Betty Blank | 5000 Meters | 23:21 | Jan 01 | DCRRC New Year's | 22:26 | 21:59 | 22:15 | 21:40 | 23:05 | 22:53 | 22:00 | 22:14 | 23:18 | 19:14.80 | 19:14.80 |
| Jean Lauzon | 4 Mile | 34:07 | Feb 08 | Sweetheart 4 ever | 30:17 | 30:31 | 31:47 | 30:51 | 31:56 | 32:15 | 30:05 | | 32:10* | | |
| Carol Talley | 5 Mile | 39:47 | Feb 07 | Toano Icy | 37:15 | 33:23 | 35:41 | 32:43 | 38:46 | 37:46 | 36:28 | 36:04 | 37:45 | 33:22 | 32:42 |
| Merrilee Seidman | 10000 Meters | 52:30 | Feb 14 | For the Love of It | 46:22* | 46:49 | 46:39 | 46:39 | 48:42 | 47:25 | 45:54 | 47:19 | 46:43 | 40:29 | 41:34 |
| Kathyrn Martin | 12000 Meters | 48:54 | Nov 16 | US National Championships | | 49:02 | | | | 58:56 | 1:06:03 | | | 50:49 | |
| Cecil Astrop | 15000 Meters | 1:17:19 | Jan 18 | Frostbite | 1:25:08 | 1:22:36 | 1:34:44 | 1:24:21 | 1:15:07 | 1:16:50 | 1:16:39 | 1:17:33 | 1:22:03 | 1:04:42 | 1:04:42 |
| Marcy Foster | 10 Mile | 1:25:09 | Mar 01 | Reston | 1:11:07 | 1:12:23 | 1:11:54 | 1:09:13 | 1:10:06 | 1:17:22 | 1:16:37 | 1:18:17 | 1:31:13 | 1:08:17 | 1:07:31 |
| Betty Blank | 20000 Meters | 1:44:09 | Jan 17 | JFK | 1:47:05 | 1:53:29 | 1:50:44 | 1:50:35 | 1:43:50 | 1:42:23 | 1:44:05 | | 1:53:49 | 1:34:01 | |
| Lee Catella | Half Marathon | 1:56:41 | Mar 14 | Rock N Roll DC | 1:41:31 | 1:44:09 | 1:46:23 | 1:41:25 | 1:42:39 | 1:48:20 | 1:42:48 | 1:50:14+ | | 1:29:49 | |
| Kristi Banks | 25000 Meters | 3:30:23 | Jun 01 | Conquer the Cove | | | 3:14:21 | 3:50:24 | 4:12:30 | 2:11:35 | 2:15:38 | | | 1:58:24 | |
| Maria Shields | 20 Mile | 3:15:28 | Aug 31 | Charm City | | 3:56:05 | | 3:14:13 | | | 3:33:23 | 3:28:04* | | 2:32:16 | |
| Rose Vrbos | Marathon | 4:28:56 | Mar 08 | Lower Potomac | 3:53:30 | 3:58:09 | 4:00:16 | 4:04:31 | 3:58:41 | 3:45:41 | 3:52:06 | 3:54:45+ | | 3:14:50 | 3:11:57 |
| Dru Sexton | 50000 Meters | 5:57:04 | Feb 14 | Holiday Lake | 7:07:25 | 6:11:39 | 6:37:00 | 5:15:04 | 5:04:02 | 5:19:22 | 7:36:06 | | | 5:00:29 | |
| Ruth Kohstall | 50 Mile | 9:52:06 | Nov 22 | JFK | | | 9:26:27 | | 11:43:30 | 11:38:11 | 11:53:48 | | | 8:35:19 | |
| Barbara Isom | 100 Mile | 31:33:01 | May 15 | Massanutten | | | | | 31:33:01 | | | | | | |
| Name | Distance | Time | Date | Race | 2014 | 2013 | 2012 | 2011 | 2010 | 2009 | 2008 | VA | MD | American | World |
65-69 Women


| | | | | | | | | | | | | | | | |
| --- | --- | --- | --- | --- | --- | --- | --- | --- | --- | --- | --- | --- | --- | --- | --- |
| Name | Distance | Time | Date | Race | 2014 | 2013 | 2012 | 2011 | 2010 | 2009 | 2008 | VA | MD | American | World |
| Joanie McMullan | 400 Meters | 1:34 | Jan 25 | TJ Meet | 1:31.95 | 1:24.27 | | 1:56.07 | 1:47.33 | 1:19.72 | 1:25.9 | | | 89.62 | 68.21 |
| Susan Aderhold | 800 Meters | 3:23.61 | Mar 22 | USA Masters | | 3:23.61 | 3:40 | 3:30 | 4:05.9 | 3:02.09 | 3:01.85 | | | 2:46.30 | 2:44.43 |
| Dee Nelson | 1500 Meters | 7:10 | Jul 10 | FSC Decathlon | | 7:10 | 7:10 | 8:18.92 | 8:24.26 | | | | | 5:45.4 | 5:43.61 |
| Joanie McMullan | 1 Mile | 8:13.7 | Jan 25 | TJ Meet | 7:16.3 | 7:37.6 | 7:00 | 7:12 | 7:26 | 6:53 | 6:25.41 | | | 6:16.28 | 6:16.28 |
| Patricia Kolb | 3000 Meters | 26:08 | May 18 | Capitol Hill | 26:08 | 14:58 | 14:59 | 14:24 | 15:00 | 14:07 | 12:50.32 | | | 12:03.78 | 12:03.78 |
| Gail Copelan | 2 Mile | 24:51 | Feb 08 | Resolution | 16:03 | 16:14 | 16:26.5 | 15:50 | 15:22 | 15:14.85 | 24:11 | | | | |
| Barbara Mathewson | 5000 Meters | 23:06 | Feb 07 | Love Run | 23:05 | 22:07 | 24:18 | 23:08 | 24:15 | 23:47 | 22:52 | 23:18 | 26:13 | 20:27.08 | 20:27.08 |
| Susie Hewes-Mackey | 4 Mile | 55:00 | Mar 14 | Four Courts | 30:27 | 30:44 | 34:20 | 33:19 | 38:21 | 34:02 | 34:31 | | 34:20* | | |
| Alice Franks | 5 Mile | 39:34 | Feb 01 | Country Run | 37:09 | 36:47 | 39:33 | 40:38 | 41:19 | 41:15 | 41:42 | 37:28 | 41:58* | 35:00 | 35:29 |
| Alice Franks | 10000 Meters | 47:52 | Mar 01 | St. Patrick's Day | 46:14* | 45:55 | 53:07 | 49:40 | 49:35 | 49:27 | 53:07 | 49:19 + | 49:42 | 45:04 | 42:07.02 |
| Alice Franks | 12000 Meters | 57:04 | Nov 16 | US National Championships | | | | | | 1:02:37 | | 1:09:01* | | 59:19 | |
| Vicky Tolbert | 15000 Meters | 1:44:55 | Jan 18 | Frostbite | 1:29:47 | 1:24:50 | 1:20:49 | 1:21:47 | 1:31:39 | 1:54:39 | 1:40:37 | 1:34:17 | 1:28:00* | 1:08:58 | 1:08:58 |
| Barbara Mathewson | 10 Mile | 1:23:52 | Jan 17 | TS Tune-up | 1:16:45 | 1:17:31 | 1:20:31 | 1:22:16 | 1:22:43 | 1:22:57 | 1:25:54 | 1:29:43 | 1:39:21 | 1:15:01 | |
| Therese Murtagh | 20000 Meters | 2:25:27 | Aug 17 | Leesburg | 2:25:27 | 1:48:40 | 1:52:58 | 2:45:41 | 2:47:54 | 3:18:00 | 2:25:00 | | | 1:36:08 | |
| Mary Fredlake | Half Marathon | 2:23:37 | Mar 14 | Rock N Roll DC | 1:44:33 | 1:46:03 | 2:02:49 | 1:59:50 | 1:54:55 | 2:04:25 | 1:52:02 | 1:47:42+ | 1:46:03* | 1:39:40 | 1:38:49 |
| Sally Evans | 25000 Meters | 3:04:25 | Jun 01 | Conquer the Cove | | | | | | | 3:17:35 | | | 2:10:59 | |
| Betty Brothers | 20 Mile | 3:06:06 | Feb 22 | TS Distance Series | | | | | | | | | | 3:02:01 | |
| Mary Lou Harris | Marathon | 4:39:13 | Mar 08 | Lower Potomac | 3:54:07 | 4:00:29 | 3:54:27 | 3:45:13 | 4:13:55 | 4:42:35 | 4:01:31 | 4:09:44+ | | 3:36:57 | 3:28:10 |
| Jeanne Kruger-Williams | 50000 Meters | 6:37:32 | Dec 21 | Seashore Trail | | 6:37:32 | | 8:03:17 | | 6:09:20 | | | | 5:11:50 | |
| Susan Wong | 50 Mile | 11:25:11 | Nov 17 | JFK | | | 11:25:11 | | 13:06:49 | | 13:54:30 | | | 9:04:31 | |
| Name | Distance | Time | Date | Race | 2014 | 2013 | 2012 | 2011 | 2010 | 2009 | 2008 | VA | MD | American | World |
70-74 Women


| | | | | | | | | | | | | | | | |
| --- | --- | --- | --- | --- | --- | --- | --- | --- | --- | --- | --- | --- | --- | --- | --- |
| Name | Distance | Time | Date | Race | 2014 | 2013 | 2012 | 2011 | 2010 | 2009 | 2008 | VA | MD | American | World |
| Dee Nelson | 400 Meters | 1:34.7 | Ju1 02 | FSC Decathlon | 1:34.7 | 2:16.16 | | 1:51.0 | 1:53.09 | 2:03.4 | 1:26.36 | | | 77.92 | 78.26 |
| Dee Nelson | 800 Meters | 3:35 | Jun 18 | FSC Decathlon | 3:35 | | 4:14.7 | 4:14.7 | 4:17.69 | 3:09.74 | 4:05.73 | | | 3:04.26 | 2:59.55 |
| Dee Nelson | 1500 Meters | 7:16 | Jul 09 | FSC Decathlon | 7:16 | | 9:04 | 7:37.14 | 8:42.7 | 8:04.3 | 8:08.88 | | | 6:22.47 | 6:12.14 |
| Dee Nelson | 1 Mile | 7:19 | Apr 16 | Main Street | 7:19 | 7:44.36 | | 8:25.5 | 8:30.3 | 7:44.20 | 8:10 | | | 6:47.91 | 7:15.68 |
| Dee Nelson | 3000 Meters | 16:34 | Feb 14 | Tidal Basin | 15:05 | 15:42 | 28:36 | 16:49.48 | 18:23.5 | 15:01.52 | | | | 14:41.60 | 13:27.53 |
| Dee Nelson | 2 Mile | 18:37 | Mar 15 | HCS Longfellow | 16:46.5 | 18:04 | 18:04 | 37:43 | | 18:23 | 18:47 | | | | |
| Dee Nelson | 5000 Meters | 27:41 | Feb 08 | Run your Heart Out | 25:41 | 25:25 | 24:49 | 25:17 | 29:34 | 27:30 | 28:24 | 24:49 | 26:54 | 24:09.86 | 22:52.05 |
| Marcia Hall | 4 Mile | 54:53 | Feb 08 | Sweetheart 4 ever | 33:55 | 38:25 | 38:07 | 40:56 | 40:30 | 39:23 | 39:18 | | | | |
| Dee Nelson | 5 Mile | 46:58 | Feb 01 | Country Run | 43:14 | 44:00 | 40:54 | 41:53 | 55:40 | 47:30 | 42:09* | 38:46 | 47:19 | 38:46 | |
| Jeanette Novak | 10000 Meters | 1:02:30 | Feb 14 | For the Love of It | 57:15 | 55:40 | 55:16 | 59:04 | 59:57 | 1:01:07 | 1:00:14 | 50:29 | 57:00 | 48:53 | 47:54 |
| Ruth Thelen | 12000 Meters | 1:07:05 | Nov 16 | US National Championships | | | | | | 1:19:07 | 1:13:08 | | | 58:22 | |
| Marcia Hall | 15000 Meters | 2:02:58 | Apr 05 | J Brian's Taproo | 2:02:58 | | | 1:35:21 | 1:48:31 | 1:39:24 | 1:35:36 | 1:16:35 | | 1:16:35 | 1:12:52 |
| Dee Nelson | 10 Mile | 1:27:19 | Apr 06 | Credit Union Cherry Blossom | 1:27:19 | 1:32:04 | 1:28:42 | 1:28:34 | 1:30:58 | 1:30:54 | 1:30:32 | 1:28:42 | 1:26:43 | | |
| Sharon Geltner | 20000 Meters | 2:52:40 | Aug 17 | Leesburg | 2:52:40 | | | 3:48:43 | | 2:16:50 | 2:15:12 | | | 1:46:21 | |
| Bonnie Bence | Half Marathon | 2:18:27 | Mar 14 | Rock N Roll DC | 2:07:02 | 2:03:00 | 2:02:05* | 2:08:11 | 2:01:46 | 2:09:15 | 2:11:39 | 1:57:24+ | | 1:50:31 | 1:44:34 |
| Pauline Ely | 25000 Meters | 3:22:56 | Jan 24 | Tidewater Striders Tune-up | | | | | | 3:22:56 | | | | 2:18:20 | |
| Ernestine Shepherd | 20 Mile | 3:55:49 | Sep 05 | Charm City | | | | | 3:55:49 | | | | | 3:29:57 | |
| Mary Ellen Loncto | Marathon | 4:35:23 | Oct 26 | Marine Corps | 4:35:23 | 5:03:28 | 5:10:50 | 4:54:27 | 5:18:42 | 4:45:41 | 5:11:45 | 5:05:29+ | | 4:01:52 | 3:48:14 |
| | 50000 Meters | | | | | | | | | | | | | 5:44:04 | |
| Barbara MacKlow | 50 Mile | 12:37:10 | Nov 20 | JFK | | | | | | | | | | 9:55:09 | |
| Name | Distance | Time | Date | Race | 2014 | 2013 | 2012 | 2011 | 2010 | 2009 | 2008 | VA | MD | American | World |
75-79 Women


| | | | | | | | | | | | | | | | |
| --- | --- | --- | --- | --- | --- | --- | --- | --- | --- | --- | --- | --- | --- | --- | --- |
| Name | Distance | Time | Date | Race | 2014 | 2013 | 2012 | 2011 | 2010 | 2009 | 2008 | VA | MD | American | World |
| Rose Green | 400 Meters | 1:26.27* | Mar 07 | Eastern Regional | 1:59.49 | 1:55.08 | 1:56.92 | 2:00.39 | 1:31.79 | | | | | 89.62 | 88.42 |
| Tami Graf | 800 Meters | 4:39.12 | Mar 07 | Eastern Regional | 4:43.1 | 4:24.73 | 4:20.29 | 4:21.03 | | 3:56.17 | | | | 3:37.19 | 3:31.37 |
| Tami Graf | 1500 Meters | 9:36 | Mar 19 | Tidal Basin | 9:36 | 8:46 | 8:46 | 8:39.42 | | | | | | 7:42.30 | 6:41.51 |
| Tami Graf | 1 Mile | 9:05.3 | Jan 25 | TJ Meet | 9:26.5 | 7:33.35 | 9:15.59 | 9:17 | 9:42 | 8:40.69 | | | | | 8:59.40 |
| Tami Graf | 3000 Meters | 19:22 | Jan 18 | PG Sportsfest | 20:32 | 18:10 | 18:11 | 18:09 | | | | | | 17:37.20 | 14:26 |
| Tami Graf | 2 Mile | 24:09 | Mar 15 | HCS Longfellow | 21:43 | 20:15 | 22:17 | 22:02 | 23:52 | 22:38 | | | | | |
| Janet Hughes | 5000 Meters | 34:14 | Feb 14 | Heart & Soles | 29:49* | 31:38 | 30:59 | 30:15 | 32:57 | 32:28 | 32:13 | 32:10* | 58:02 | 27:10.76 | 24:32.98 |
| Tami Graf | 4 Mile | 47:20 | Feb 08 | Sweetheart 4 ever | 40:10 | 41:33 | 41:55 | 45:40 | 49:38 | 46:03 | 55:58 | | | | |
| Janet Hughes | 5 Mile | 57:08 | Jan 17 | Prediction | 59:52 | 54:03 | 51:51 | 55:34 | 1:07:00 | 55:13 | 55:53 | 40:44 | | 40:44 | |
| Tami Graf | 10000 Meters | 1:10:47 | Jan 04 | Thunder Hill | 1:03:56 | 1:02:43 | 1:06:24 | 1:01:47 | 1:13:33 | 1:16:03 | 1:11:58 | 1:08:44 | 1:11:33* | 53:40 | 50:00.93 |
| Heidi Moebius | 12000 Meters | 1:05:01 | Nov 16 | US National Championships | | 1:06:04 | | | | | | | | 1:08:21 | |
| Tami Graf | 15000 Meters | 1:42:43 | Oct 04 | Great Allegany | 1:42:43 | 2:07:46 | 1:54:41 | 1:40:01 | 1:55:19 | 2:04:53 | | 1:25:15 | | 1:25:20 | |
| Tami Graf | 10 Mile | 2:22:47 | Jan 10 | Al Lewis | 1:31:38 | 1:41:18 | 1:33:20 | 1:48:45 | 2:11:09 | | 2:08:18 | 1:37:50 | 1:25:56 | 1:22:34 | |
| Tami Graf | 20000 Meters | 2:31:42 | Jan 19 | DCRRC JFK | | 2:31:42 | | | | | | | | 1:52:57 | |
| Annabel Lindenbaum | Half Marathon | 5:22:20 | Mar 14 | Rock N Roll DC | 2:07:21* | 2:28:57 | 1:58:15 | 2:25:03 | 2:35:25 | 3:27:57 | 4:18:04 | 2:25:03 | | 2:26:24 | |
| | 25000 Meters | | | | | | | | | | | | | 2:42:25 | |
| | 20 Mile | | | | | | | | | | | | | | |
| Nilvia Moncada | Marathon | 7:09:40 | Oct 26 | Marine Corps | 7:09:40 | 6:49:27 | 6:06:40 | 5:31:36 | | | | 6:09:06+ | | 4:49:08 | 4:08:54 |
| | 50000 Meters | | | | | | | | | | | | | 6:05:16 | |
| Barbara MacKlow | 50 Mile | 13:32:33 | Nov 20 | JFK | | | | | 13:32:33 | | | | | | |
| Name | Distance | Time | Year | Race | 2014 | 2013 | 2012 | 2011 | 2010 | 2009 | 2008 | VA | MD | American | World |
80-84 Women


| | | | | | | | | | | | | | | | |
| --- | --- | --- | --- | --- | --- | --- | --- | --- | --- | --- | --- | --- | --- | --- | --- |
| Name | Distance | Time | Date | Race | 2014 | 2013 | 2012 | 2011 | 2010 | 2009 | 2008 | VA | MD | American | World |
| Sumi Onodera-Leonard | 400 Meters | 2:03.8 | Mar 22 | Masters Indoor Champs | | | | | | 2:03.8 | | | | 1:40:45 | 1:40:45 |
| Sumi Onodera-Leonard | 800 Meters | 4:59.6 | Mar 22 | Masters Indoor Champs | | | | | | 4:59.6 | | | | 4:09.77 | 3:45.00 |
| Wally Dashiell | 1500 Meters | 13:20.10 | Sep 21 | Maryland Senior Olympics | | | | | | | | | | 8:33.70 | 7:32:22 |
| Yvonne Aasen | 1 Mile | 13:21.8 | Jan 01 | Winfield | 10:49 | 11:27.8 | 9:52 | | 15:44 | | | | | 9:00.52 | 9:00.52 |
| Miriam Gordon | 3000 Meters | 24:56.07 | Mar 22 | Masters Indoor Champs | | | | | | | | | | 20:41.04 | 20:41.04 |
| Yvonne Aasen | 2 Mile | 25:13 | May 29 | Owl Track | 25:13 | 26:22 | | | | | | | | | 21:18.60 |
| Yvonne Aasen | 5000 Meters | 42:49 | Feb 14 | AS Valentine's | 37:18 | 36:33 | 33:19 | | 41:13 | 43:00 | 44:39 | | | 29:23 | 26:56.10 |
| Yvonne Aasen | 4 Mile | 55:06 | Feb 08 | Bear Run | 52:39 | 50:14 | 47:11 | 1:01:09 | 1:13:25 | | | | | | |
| Janet Lakey | 5 Mile | 1:00:52 | Nov 15 | HCA | 1:00:52 | 1:08:01 | 1:03:51 | | | 1:15:58 | 1:11:27 | | | 52:00 | |
| Jane Berkeley | 10000 Meters | 1:21:23 | Sep 13 | Pepsi | 1:21.33 | 1:14:39 | 1:17:01 | 1:11:11 | 2:56:11 | 1:52:29 | 1:40:23 | 1:22:13+ | | 56:17 | 58:24.70 |
| | 12000 Meters | | | | | | | | | | | | | 1:44:26 | |
| Yvonne Aasen | 15000 Meters | 1:56:43 | Dec 11 | AS Anniversay | | | | 1:56:43 | | | | 1:25:15 | | 1:25:15 | |
| Yvonne Aasen | 10 Mile | 2:29:28 | Apr 06 | Cherry Pit | 2:29:28 | 1:48:59 | 2:15:42 | | | | | | | 1:31:24 | |
| | 20000 Meters | | | | | | | | | | | | | 2:26:34 | |
| Lorraine Cephus | Half Marathon | 4:42:29 | Sep 04 | Rock 'n' Roll | | | | 4:42:29 | 4:56:35 | 3:43:25 | 4:11:52 | 2:27:27 | | 2:19:23 | |
| | 25000 meters | | | | | | | | | | | | | 3:07:41 | |
| | 20 Mile | | | | | | | | | | | | | | |
| Flor Irlandez | Marathon | 6:52:25 | Oct 28 | Marine Corps | | | 6:52:25 | | | 6:57:49 | | | | 4:57:12* | 4:49.50 |
| | 50000 Meters | | | | | | | | | | | | | | |
| | 50 Mile | | | | | | | | | | | | | | |
| Name | Distance | Time | Date | Race | 2014 | 2013 | 2012 | 2011 | 2010 | 2009 | 2008 | VA | MD | American | World |
85 & Older Women


| | | | | | | | | | | | | | | | |
| --- | --- | --- | --- | --- | --- | --- | --- | --- | --- | --- | --- | --- | --- | --- | --- |
| Name | Distance | Time | Date | Race | 2014 | 2013 | 2012 | 2011 | 2010 | 2009 | 2008 | VA | MD | American | World |
| Wallie Dashiell (87) | 400 Meters | 3:18.56 | Aug 14 | Maryland Senior Olympics | | | | | 3:18.56 | | | | | 2:14.85 | 2:13.68 |
| Wallie Dashiell (87) | 800 Meters | 6:55.53 | Aug 15 | Maryland Senior Olympics | | | | | 6:55.53 | | | | | 5:43.32 | 5:00.58 |
| Wallie Dashiell (87) | 1500 Meters | 13:54.18 | Aug 14 | Maryland Senior Olympics | | | | | 13:54.18 | | | | | 10:55.01 | 10:33.40 |
| Martha Trimmer | 1 Mile | 19:45.6 | Jan 01 | Winfield | | | | | | | 16:53.1 | | | 11:03.11 | 11:03.11 |
| Mary Lathram (93) | 3000 Meters | 31:12.17 | Aug 16 | PVTC All Comers Meet | | | | | | | 31:12.17 | | | | 24:08.62 |
| | 2 Mile | | | | | | | | | | | | | | |
| Victoria Murphy (86) | 5000 Meters | 42:37 | Oct 18 | United Way 5K | 42:37 | | 53:14 | | 60:00 | 54:29 | 52:28 | | | 34:51 | 37:02.3 |
| Gertude Dailey | 4 Mile | 1:13:55 | Aug 30 | Charlottesville | | 1:14:05 | | | | | | | | | |
| Kathleen Anderson | 5 Mile | 1:21:01 | Nov 15 | HCA | 1:21:01 | 1:22:04 | | | | | 1:41:16 | 1:29:54 | | 1:03:16 | |
| Krystle Kemp | 10000 Meters | 2:25:31 | Mar 29 | Ukrops | 2:25:31 | 2:29:01 | 3:27:32 | 3:36:07 | 3:17:50 | 3:33:47 | 3:26:03 | 1:47:59 + | | 1:14:25 | 1:26:55.70 |
| | 12000 Meters | | | | | | | | | | | | | | |
| | 15000 Meters | | | | | | | | | | | | | | |
| Hedy Marque | 10 Mile | 1:57:38 | Apr 03 | Credit Union Cherry Blossom | | | | | | | | | | 1:57:30 | |
| | 20000 Meters | | | | | | | | | | | | | | |
| | Half Marathon | | | | | | | | | | | | | 3:23:06 | |
| | 25000 meters | | | | | | | | | | | | | | |
| | 20 Mile | | | | | | | | | | | | | | |
| | Marathon | | | | | | | | | | | | | 6:53:50 | 6:53:50 |
| | 50000 Meters | | | | | | | | | | | | | | |
| | 50 Mile | | | | | | | | | | | | | | |
| Name | Distance | Time | Date | Race | 2014 | 2013 | 2012 | 2011 | 2010 | 2009 | 2008 | VA | MD | American | World |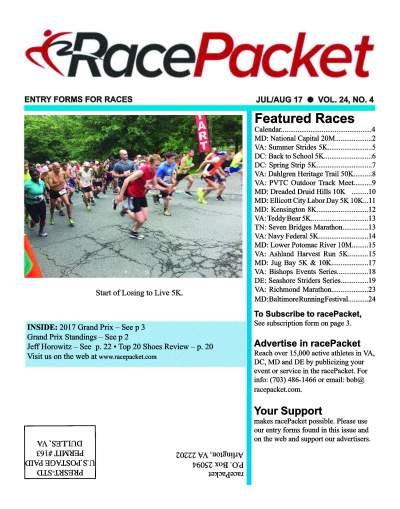 Subscribe to RacePacket


Find out about our $3,000 in prizes
Best Race Performances of 2015