VA Girls and MD Boys split Potomac X-Country Battle
Maryland's Ellie Gonzalez smashes girl's course record; Bertrand's win leads Maryland boys; Wittich powers Virginia girls
By Steve Nearman
Gaithersburg, MD
November 19, 2012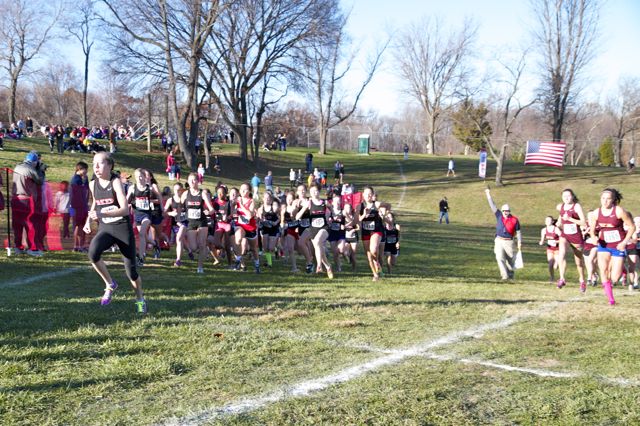 Will Bertrand of Clarksburg High School and Ellie Gonzalez of The Catholic High School in Baltimore made it look easy on Saturday afternoon, aptly handling the hilly two-loop Smokey Glen Farm course to triumph at the 7th Battle of the Potomac Cross Country Championships.
The annual meet, near the end of the prep cross country season but before the Nike Cross Nationals and Foot Locker National Championship, pits runners from four states — Maryland, the District of Columbia, Virginia, and West Virginia against each other in a 5K race. Win or lose, all runners were treated to perfect cross country weather — sunny, clear skies, upper 50s -- and to a notable barbeque chicken dinner after the races.
Bertrand, however, was intent on winning this meet and he made sure of that halfway through the race. "I wanted to hold back early," said Bertrand, a senior who took up cross country just this year after what he considered three mediocre years as a soccer player.
The meet was sandwiched between the Maryland State championships and this weekend's competing national qualifying meets, the Foot Locker Northeast Regional Qualifier, and the Nike Southeast Regional. He said he had taken the prior week off from training, just desserts for capturing the Maryland State public schools 4A title a week before.
So he was content to let Jonathan Luckin, who eventually finished third, fly through a 4:52 first mile with a four-second gap, trailing Luckin until the midway point.
"Coming into the second lap, I picked it up on the hill," Bertrand explained. "I was keeping it easy in the first mile, mile and a half."
From there, Bertrand, who said he would like to run for Princeton next year, continued to lengthen his lead and passing two miles in the desolate Christmas Tree Farm section of the course in 10:36. He stopped the clock at 16:34, some nine seconds ahead of runner-up Bradley Heuer, representing Virginia. Luckin, from Maryland, was third in 16:49.
Bertrand and Luckin paced another solid showing by Maryland boys, winning the team competition for the sixth time in seven years, 80-130, over Virginia. The Battle of the Potomac scores the top 10 finishers for each state.
"It was fun," Bertrand said of the course. "It seemed like more uphill than downhill."
As he focuses on the Foot Locker race coming up in the Bronx, NY, running his first cross country season had another major purpose. "Running indoors last year, a lot of races I didn't have the base, the conditioning to keep up with the better runners near the end of the races," Bertrand explained. "And I was thinking if I could keep up, I could be running for some of the better colleges."
It is a bit early for Gonzalez, a junior, to hone in on colleges. But if she keeps up her successes, the top schools will be calling her.
Gonzalez has been turning heads on the track and on the trails since her freshman year, and victory at the Maryland Private Schools State Meet last week was no surprise. She said she was competing at Battle of the Potomac for the first time.
"It was hard but it was a nice course," she offered.
She cruised through mile one with Amber Hawkins of Virginia and James Wood HS in 5:56, holding back early. "This week, my hamstrings were really sore. So I decided not to lead. Then after the first loop, I took the lead. I took the lead even before I picked up the pace."
By two miles, Gonzalez already was nine ticks out ahead of eventual runner-up Caroline Beakes, another Maryland runner from Bethesda-Chevy Chase HS who also won a Maryland state title in public school's 4A in her first cross country season after playing soccer. Gonzalez's 6:20 second mile brought her through two in 12:16. From there, the top three places were set: Gonzalez, Beakes and Virginia runner Maddie Wittich of West Springfield HS, who was fourth here last year in 20:20.
When Gonzalez broke the tape at 18:49, she became the first girl to post a sub-19 minute time in the history of the event. Beakes followed in 19:10 and Wittich in 19:34.
For all her cross country prowess, Gonzalez said she prefers indoor and outdoor track to the trails. "I like to run fast," she said. She did run a 4:53 mile at the New Balance Indoor National Championships earlier this year as a sophomore.
It appears to run in the family as well. Watching Gonzalez score yet another invitational triumph on Saturday was her father Anibal Gonzalez, who ran on the Mount St. Mary's track team in the 80s with legendary distance stars Kip and Charles Cheruiyot. He was a member of the 4x800 squad which still holds the school record from 1987.
Anibal said he was a sub-4 minute miler in his heyday, but he denied that Ellie's success is all about genetics. "Genetics plays a little part but it is about hard work and she works very hard," he explained.
With scores being tabulated for state bragging rights, the Virginia girls made this meet a split decision, upending their Maryland counterparts, 88-122, by grabbing third through eighth places. This was the sixth consecutive win for the Virginia girls.
A record race field of 515 registered. They were cheered on by three-time Olympian Dathan Ritzenhein, who was the Special Guest Starter and recipient of the 1st Annual "Geoff Hollister Youth Inspiration" Honor.

Support Our Sponsors
Marathon Training
PVTC Track Series
Mary's Custom Quilts
Seashore Striders Summer 2001 Schedule
Joints In Motion
Team Diabetes
Fredericksburg Grand Prix
TrackCoach.com
Running Enclave
DC Fit
Fleet Feet - DC
Fleet Feet - VA&MD